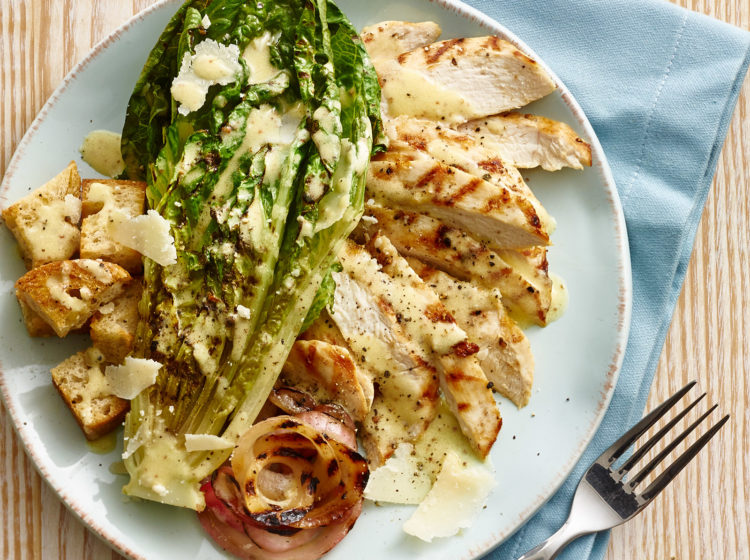 Grilled Romaine & Chicken Caesar Salad
Serves: 4
Prep Time: inutes
Cook Time: inutes
Total Time: inutes
Very few ingredients compliment juicy, flavorful boneless skinless Bell & Evans Chicken Breasts like fresh, crisp Romaine hearts. The chicken is flavorful on its own, so the simple compliment of a few basic ingredients make this salad irresistible.
Ingredients
Dressing
Juice of 2 Limes
1 tsp Dijon mustard
1-2 Cloves of garlic
1 tsp Capers
3 Anchovies
2 T Parmesan, grated
½ Cup Olive oil
Salt & pepper, to taste
Chicken
2 T Olive oil
Juice of 1 lime
Salt & pepper, to taste
Salad
3 Heads of romaine hearts cut in half
1 Red onion, peeled & sliced
2 T Olive oil
Croutons, for serving
Parmesan shavings, for serving
Preparation
Dressing
In a blender combine lime juice, mustard, garlic, capers, anchovies and parmesan cheese. Blend until smooth.
While blender is running slowly stream in olive oil until well emulsified.
Season with salt and pepper.
Chicken
Pre- Heat Grill to medium-high heat
Marinate chicken with olive oil, lime juice, salt and pepper
Grill both sides until golden brown and thoroughly cooked to an internal temperature of 170°F as measured by a meat thermometer.
Remove from heat and cover with foil to keep warm.
Salad
Gently brush oil evenly over cut sides of romaine hearts with olive oil. Season with salt & pepper. Repeat the same with the red onions.
Over medium- high heat grill romaine (cut side down) for 1-2 minutes until grill marks appear watching closely to prevent burning. Romaine should become slightly wilted. Repeat the same with the red onions.
Serving
Place romaine hearts on plate grilled side up. Drizzle with dressing.
Serve with grilled sliced chicken and onions.
Garnish with parmesan shavings and croutons.
Featured Product
You may also like