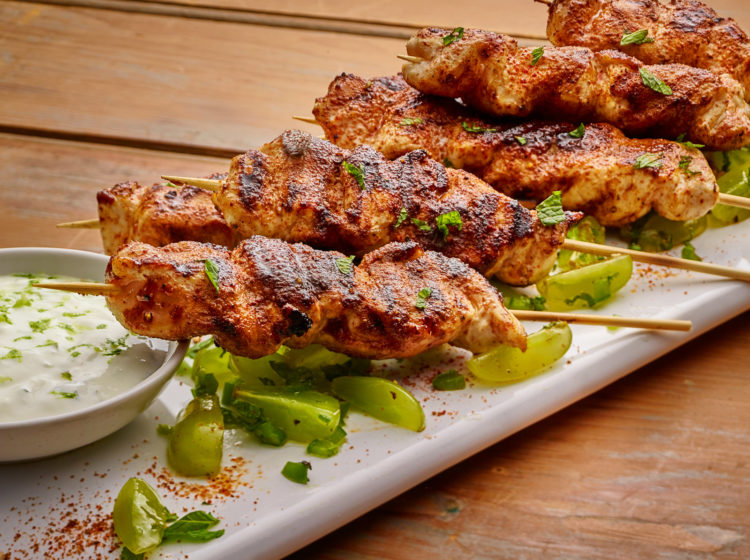 Grilled Jerk Chicken Skewers
Serves: 6
Prep Time: inutes
Cook Time: inutes
Total Time: inutes
Zesty island spice gives this easy jerk chicken lots of bold flavor. If that isn't enough these skewers are topped with simple yet flavorful condiments.… Juicy green grape salsa with a jalapeno kick and a sweet & tangy honey lime yogurt with mint. This is sure to be your new summer favorite!
Ingredients
Jerk Chicken
1 ½ lbs. Bell & Evans Chicken Tenders (approximately 16 pieces)
1 T Dark Brown Sugar
1 ½ tsp Garlic Powder
1 ½ tsp Ground Ginger
½ tsp Cinnamon
¼ tsp Ground Cloves
1 tsp Sweet or Hot Paprika
1 tsp Kosher Salt
¼ tsp Black Pepper
8 Skewers NOTE: If using Bamboo, pre-soak in water for 30 minutes to an hour to prevent burning
Green Grape Salsa:
2 Cups Green Grapes, quartered lengthwise
½ Green Bell Pepper, finely diced
2 Scallions, thinly sliced
1 Jalapeno, cored, seeded & finely diced
Salt & pepper, to taste
Honey Lime Yogurt Sauce
2 Cups Whole Milk Yogurt
2 T – 4T Honey, sweetened to your liking
1 Lime, zested & juiced
Fresh Mint, roughly chopped, add to taste
Preparation
Prepare salsa by combining all ingredients in a bowl until well blended. Season with salt & pepper, to taste.
Prepare yogurt by combining all ingredients in a bowl until well blended.
Mix all jerk spices in a bowl until well blended.
Season chicken tenders with the spice mix.
Thread 2 tenders onto each skewer.
On a preheated grill (medium to high heat) grill chicken skewers on both sides until golden brown and thoroughly cooked to an internal of 170°F as measured by a meat thermometer. Remove from heat and serve with salsa and yogurt.
Featured Product
You may also like