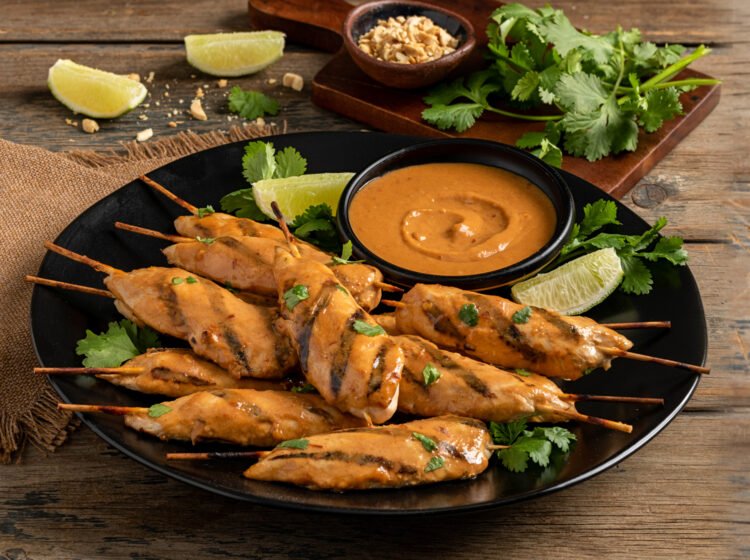 Grilled Chicken Satay with Peanut Sauce
Serves: 4
Prep Time: inutes
Cook Time: inutes
Total Time: inutes
Ingredients
For Chicken
2 TB Soy sauce
1 Lime, juiced
1 TB Honey
1 TB Sriracha sauce
2 tsp Ground ginger
2 cloves Garlic, minced
Vegetable oil, for brushing grates
For Peanut Sauce and assembly
1/2 cup Salted creamy peanut butter
1/4 cup Water
2 TB Soy sauce
2 TB Maple syrup
1 Lime, juiced, plus 1 Lime, cut into wedges
2 tsp Chili garlic sauce
2 TB Chopped salted peanuts, for garnish
Chopped fresh cilantro, for garnish
Preparation
For Chicken
Soak 8 wooden skewers in water for at least 30 minutes.
Place chicken in a resealable plastic bag. Add soy sauce, lime juice, honey, sriracha, ginger and garlic. Massage the mixture into chicken to cover completely. Marinate at room temperature for 30 minutes, or refrigerate several hours or overnight.
Brush excess marinade off chicken, reserving marinade. Thread 1 piece of chicken onto each skewer.
Heat grill or grill pan over medium heat and brush grates with oil. Grill chicken, brushing with reserved sauce, and turning occasionally, until golden-brown, or until internal temperature reaches 165°F as measured by a meat thermometer, about 6-10 minutes.
Garnish chicken with peanuts and cilantro. Serve with peanut sauce and lime wedges.
For Peanut Sauce
Whisk peanut butter, water, soy sauce, maple syrup, lime juice and chili garlic sauce together until smooth. Set aside for serving with chicken.
Featured Product
You may also like