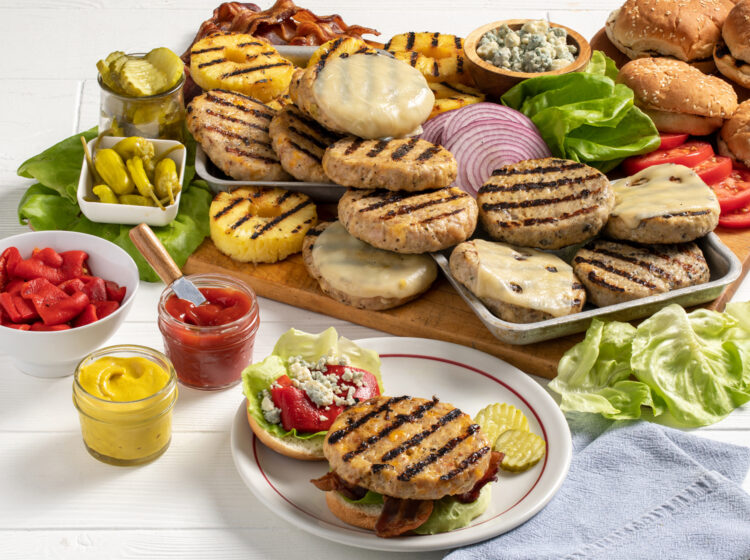 Grilled Chicken Burger Board
Serves: 12
Prep Time: inutes
Cook Time: inutes
Total Time: inutes
This interactive spread weaves together the best flavors of summer and lets everyone create their own customized burgers. Go big with not one, but three, types of Bell & Evans  Chicken Burgers, and a rainbow of condiments and toppings, including veggies, bacon and multiple kinds of cheese!
Ingredients
6 rings Pineapple
Ketchup, for serving
Mustard, for serving
4 oz Blue cheese, crumbled
1 jar (16 oz) Dill pickle chips or spears
2 cups Pickled pepperoncini peppers, drained
1 jar (12 oz) Whole roasted red peppers, halved
12 slices Bacon, cooked
1 Large Red onion, sliced thin
1 Head Bibb lettuce, leaves separated
2 Large Beefsteak tomatoes, sliced
6 slices Provolone cheese
6 slices Swiss cheese
12 Burger buns, toasted
Preparation
Preheat grill to medium heat and brush grates with oil. Grill burgers, flipping occasionally, until fully cooked through, or until the internal temperature reaches 165°F as measured by a meat thermometer, about 30 minutes.
Before burgers are finished, grill pineapple rings until char marks appear, about 1 to 2 minutes per side.
Place ketchup, mustard and blue cheese in small serving bowls and arrange on a large serving board. Arrange cooked burgers, pickles, pepperoncini, red peppers, bacon, red onion, lettuce, tomato, provolone, Swiss cheese and burger buns on board, and serve. Top burgers with desired toppings, and enjoy.
Featured Product
You may also like