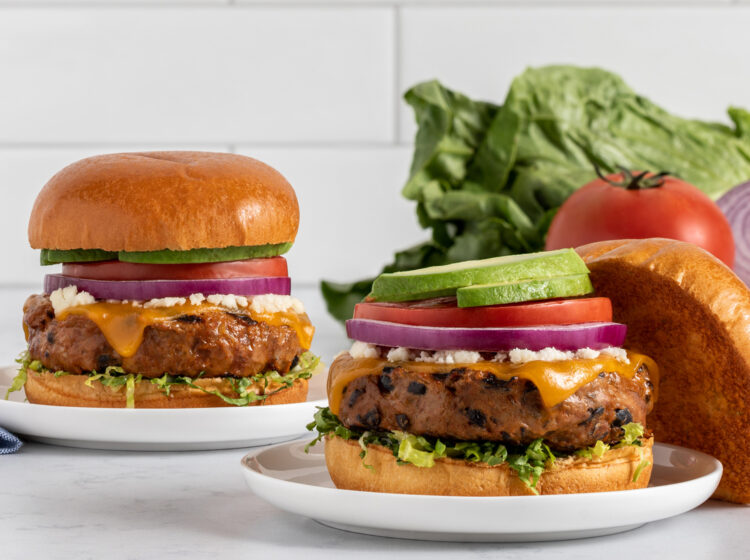 Grilled Black Bean and Chicken Burger
Serves: 4
Prep Time: inutes
Cook Time: inutes
Total Time: inutes
There are a lot of ways to dress up a chicken burger — get creative and try this Mexican-inspired version! The protein-packed and delicious patties are a mix of Bell & Evans Taco Seasoned Ground Chicken (pre-seasoned to save lots of time!), layered with toppings borrowed from your favorite taco recipe: cheese, tomatoes, avocados and red onion.
Ingredients
1 cup Cooked black beans, drained, rinsed
Salt & black pepper, to taste
Vegetable oil, for brushing grill
4 Hamburger buns, toasted
2 cups Shredded lettuce
4 slices Cheddar cheese and/or 4 oz queso fresco, crumbled
1 Beefsteak tomato, sliced thick
2 Avocados, pitted, peeled, sliced thin
1 Small Red onion, cut into rounds
Preparation
In a large bowl, mash beans with a fork. Add ground chicken and mix until just combined. Form into 4 equal patties. Season with salt and pepper.
Heat grill to medium-high and brush grates with oil. Place patties on grill and cook for 5-6 minutes per side, or until internal temperature reaches 165°F.
Serve grilled patties on hamburger buns with cheese, lettuce, tomato, avocado and red onion. Enjoy!
NOTE: To make this recipe gluten free, either use no bun or a Gluten Free bun.
Featured Product
You may also like