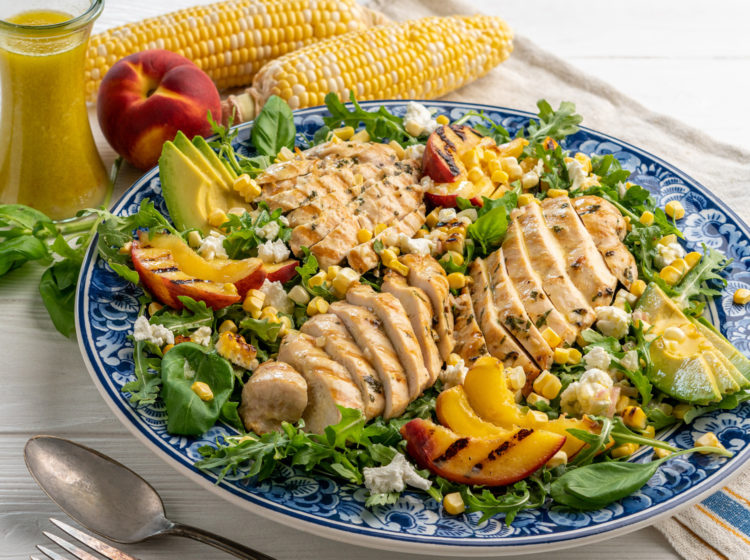 Grilled Basil Chicken, Corn and Peach Salad
Serves: 3
Prep Time: inutes
Cook Time: inutes
Total Time: inutes
Liven up your summer nights (and days!) with this ultimate dinner or lunch chicken breast salad, balancing the best sweet and smoky flavors of the season, and topped off with a tangy vinaigrette.
Ingredients
Salad
2 TB Extra-virgin olive oil, divided
1 Handful fresh basil, roughly torn
Salt & Pepper, to taste
4 Ears corn, husks removed
2 Peaches, halved and pitted
6 Cups Arugula or mixed salad greens
1/4 Cup Crumbled goat cheese
1 Avocado, sliced
Dressing
1 Small shallot, finely chopped
1 TB Dijon mustard
1 TB Honey
1 TB Lemon juice
3 TB Champagne vinegar
1/2 Cup Extra-virgin olive oil
Preparation
Chop 1 TB basil. Add to a medium bowl with 1 TB olive oil and a pinch each of salt and pepper. Add chicken and toss to coat. Set aside.
Heat grill or grill pan to medium-high heat. Add the chicken and sear 3 to 5 minutes on each side. Reduce heat, cover and cook until the chicken is cooked through, about 10 minutes, or until the internal temperature is 165°F as measured on a digital thermometer. Remove from grill and set aside to cool.
Brush corn and cut sides of peaches with remaining tablespoon olive oil. Grill 5 to 8 minutes, or until corn and peaches have browned lightly and caramelized. Remove from heat. When cool enough to handle, cut corn from cobs and slice peaches.
Meanwhile, make dressing: Combine all ingredients in a small bowl, or jar with a tightly fitting lid, and whisk, or shake vigorously, to combine.
Featured Product
You may also like