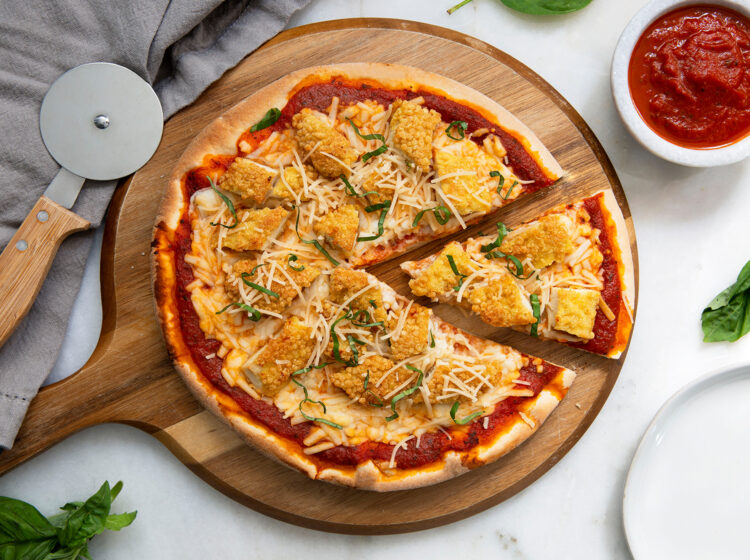 Gluten-Free Dairy-Free Chicken Parmesan Pizza
Serves: 2
Prep Time: inutes
Cook Time: inutes
Total Time: inutes
Making your own gluten-free pizzas is often times better than searching for a decently priced, good tasting gluten-free pizza at a local restaurant, especially when made with Bell & Evans humanely raised, air-chilled NEW Organic Chicken Tenders. Let us know in the comments section if you prefer to order gluten-free pizza from a restaurant or make your own!  (Recipe from Simply Gluten-Free Magazine)
Ingredients
2 (9-10-inch) Gluten-free pizza crusts
1 (14 ounce) jar Pizza sauce
2 cups Dairy-free mozzarella shreds
¼ cup Dairy-free Parmesan shreds
4 large Basil leaves
Preparation
Preheat the oven to 375°F. Line a baking sheet with parchment paper.
Bake the chicken tenders for 15 minutes, flip, and bake for another 10 minutes. Remove the chicken tenders and raise the oven heat to 425°F degrees.
Cut the chicken tenders into bite-sized pieces. Spread ½ cup pizza sauce on each crust. Top each pizza with 1 cup mozzarella shreds, then half the chicken tenders. Bake for an additional 10 minutes or until the crust is golden brown and the sauce and cheese shreds are hot.
Featured Product
You may also like