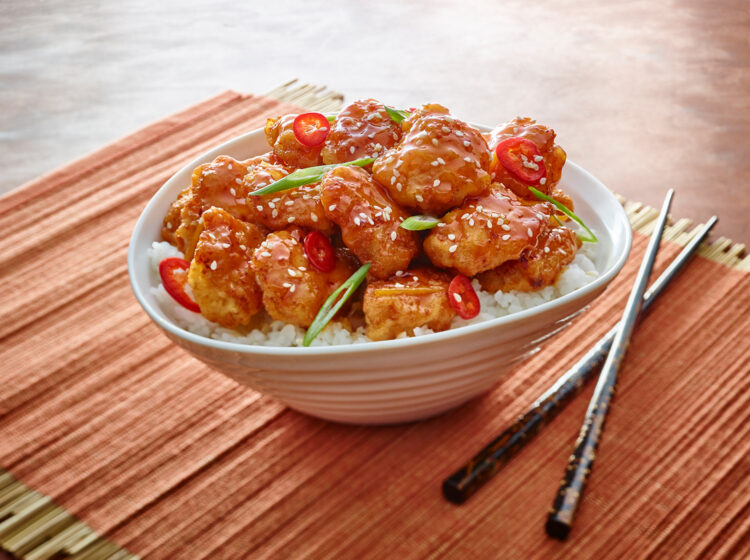 Gluten Free Crispy Orange Chicken
Serves: 4
Prep Time: inutes
Cook Time: inutes
Total Time: inutes
Yes, yes, and Yes! Our crispy Gluten Free Chicken Breast Nuggets coupled with our own sweet and spicy orange sauce.  Serve as a traditional entrée or skewer with extra dipping sauce for your next party appetizer.
Ingredients
Vegetable oil for frying chicken
4 T Unsalted Butter
4 Cloves Garlic, minced
1-2 T Fresh Ginger Root, grated or finely minced
¼ tsp Crushed Red Pepper Flakes, or to taste
2 Cups Orange Juice
1 Orange, zest only
¼ Cup + 1 T Granulated Sugar
2 tsp Sriracha Hot Sauce, or to taste
2 tsp Soy Sauce
2 tsp Cornstarch & 1 T Water (mixed together)
1 tsp Sesame Oil
Salt & Pepper, to taste
Garnish
1 tsp Toasted Sesame Seeds
2 sprigs Green Onions, green part only, thinly sliced
1 Red Fresno Chili Pepper, thinly sliced into rounds
To Serve
Preparation
In a large skillet heat oil (1/8" deep) over medium heat until it reaches 350°F. Carefully add chicken nuggets to hot oil and cook approximately 10 minutes, turning a few times until each piece is evenly golden brown. Fully cook to an internal temperature of 170°F as measured by a meat thermometer. Remove chicken from the oil and transfer to a paper towel-lined plate.
Make the Sauce: Melt 2 T unsalted butter in a medium saucepan over medium heat. Add garlic, ginger & crushed red pepper flakes. Sauté until fragrant, about 1 minute
Add orange juice, orange zest & sugar. Bring to a simmer and reduce until Slightly thickened, about 5 minutes
Add sriracha hot sauce, soy sauce and corn starch/water mixture…Stirring well to incorporate. Simmer sauce until thickened, about 5 minutes.
Remove from heat. Finish sauce with 2 T unsalted butter and sesame oil. Gently stir until butter has melted. Season with salt & pepper, to taste.
Toss chicken and sauce in a medium mixing bowl. Stir well until chicken is fully coated. *NOTE: No need to use all of the sauce. Use less if you prefer the dish to be less saucy.
Garnish with toasted sesame seeds and green onions.
Serve with steamed rice.
Featured Product
You may also like