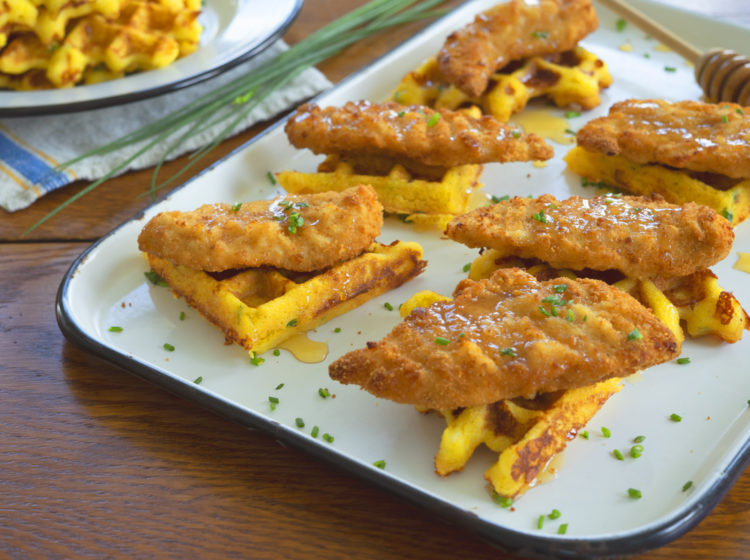 Gluten Free Crispy Chicken with Cheddar Cornbread Waffles
Serves: 6
Prep Time: inutes
Cook Time: inutes
Total Time: inutes
A classic American dish is now gluten-free, and it's easy to make at home! Everyone will love this crowd-pleasing recipe for Gluten Free Crispy Chicken with Cheddar Cornbread Waffles, perfect for an after school snack or as a party appetizer.
Ingredients
1 (12-ounce) package Bell & Evans Gluten-Free Breaded Chicken Tenders
2 cups organic, non-GMO cornmeal
1 tsp baking powder
1/2 tsp kosher salt
1 cup shredded cheddar cheese
1 jalapeño pepper, minced, seeds removed (optional)
1/4 cup + 1 TB unsalted butter, melted, divided
2 TB honey (plus more for serving)
2 large eggs, beaten
1 cup buttermilk
2 TB snipped chives
Preparation
Preheat oven to 375°. Spread frozen chicken tenders on a baking sheet and bake for 25-30 minutes. (For safety, chicken must be cooked to an internal temperature of 170°F as measured by the use of a meat thermometer. Cooking times may vary.)
Meanwhile, preheat your waffle maker. In a large bowl, mix together the cornmeal, baking powder, salt, cheddar cheese, and jalapeño. In a separate medium-size bowl, whisk together 1/4 cup melted butter, honey, eggs, and buttermilk.
Add the wet ingredients to the dry and stir until just incorporated. Brush the waffle iron with the remaining (1 tablespoon) butter. Ladle about 1/2 cup of the batter into the waffle mold and cook for 2 to 3 minutes, or until golden. Repeat, with remaining batter.
Cut waffles into quarters and serve hot with chicken tenders, drizzled with honey and sprinkled with chives. Enjoy!