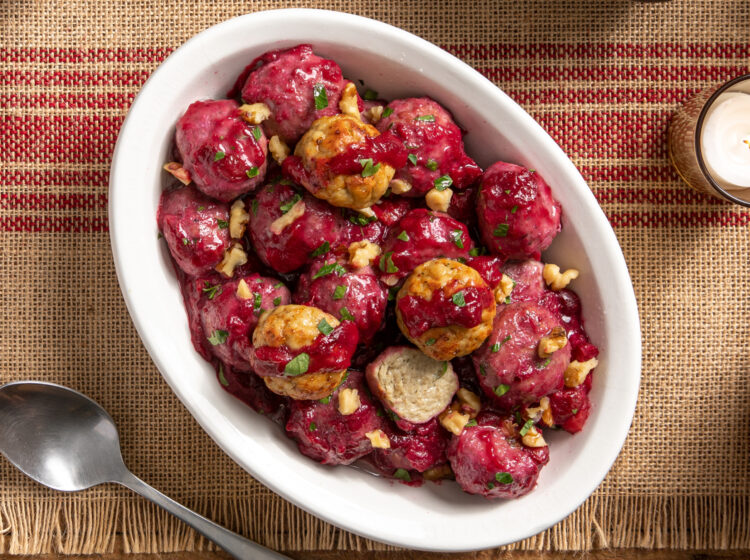 Gluten Free Cranberry Glazed Meatballs
Serves: 6
Prep Time: inutes
Cook Time: inutes
Total Time: inutes
Every "Friendsgiving" needs a snacky appetizer for everyone to nibble during cocktail hour, or while gathered around the table. These cranberry glazed chicken meatballs, which come together in a snap, are the perfect savory bite for the occasion. Bonus: Bell & Evans Traditional Chicken Meatballs are gluten-free!
Ingredients
1/2 lb Fresh cranberries
3 TB Sugar
1 TB Apple cider vinegar
1/2 Orange, juiced
2 tsp Dijon mustard
1/4 cup Walnuts, chopped
2 TB Fresh parsley, chopped
Preparation
Preheat oven to 375°F. Spread frozen meatballs on a baking sheet and bake until fully cooked through, or until the internal temperature reaches 165°F, about 30 minutes.
Meanwhile, bring cranberries, sugar, vinegar, orange juice and mustard to a boil in a large skillet over medium-high heat. Reduce heat to low and simmer, stirring occasionally, until sauce thickens, about 15-20 minutes.
Stir in cooked meatballs until well-coated. Top with walnuts and parsley. Serve and enjoy.
Featured Product
You may also like