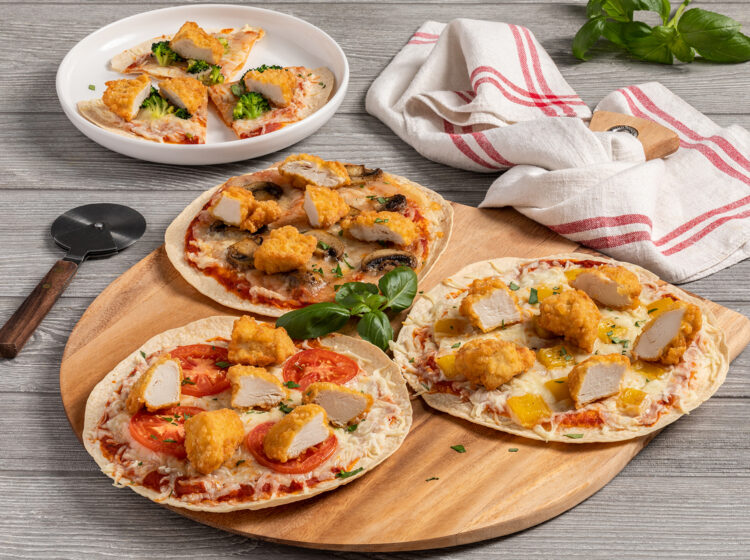 Gluten-Free Chicken Nugget Tortilla Pizza
Serves: 4
Prep Time: inutes
Cook Time: inutes
Total Time: inutes
If there are allergies or dietary restrictions in your family, this fun pizza recipe — with gluten-free tortillas in place of dough and dairy-free cheese — will be your new go-to! Crispy Bell & Evans Organic Chicken Nuggets (made with gluten-free breading!), fresh basil and a colorful mix of your favorite veggies make for wholesome, tasty toppings.
Ingredients
1 cup Tomato sauce
1/4 tsp Dried oregano
1/4 tsp Salt
4 (10-inch) Gluten-free tortillas
1 cup Shredded dairy-free mozzarella cheese
1 Sliced plum tomato or 1/2 cup Broccoli florets or 1/4 cup Sliced sweet peppers (or your favorite vegetable)
2 TB Fresh basil leaves
Preparation
Preheat oven to 375°F. Spread frozen nuggets on a rimmed baking sheet and bake for 15 minutes.
Line 2 rimmed baking sheets with parchment paper. Combine tomato sauce, oregano and salt in a small bowl. Place 2 tortillas on each prepared baking sheet. Spread a thin layer of tomato sauce evenly over each tortilla, leaving a 1/2-inch border. Top with a layer of cheese, chicken nuggets and tomato slices (or broccoli or sweet peppers).
Bake until the tortillas are light golden-brown and chicken is fully cooked, or until internal temperature reaches 165°F, about 10-15 minutes. Top with basil. Slice and serve.
Featured Product
You may also like