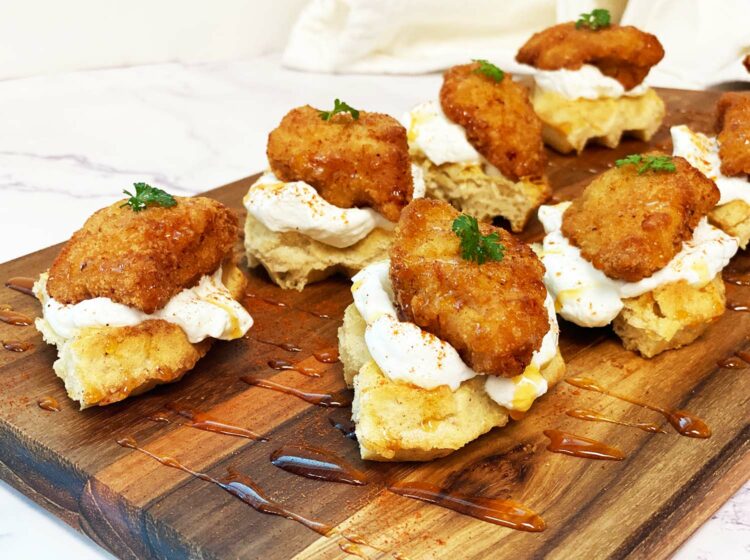 Gluten Free Chicken Nugget and Waffles
Serves: 4
Prep Time: inutes
Cook Time: inutes
Total Time: inutes
This recipe is so versatile, it can be served as an appetizer, breakfast or breakfast for dinner.  Pair our Gluten Free Chicken Nuggets with a Gluten Free waffle– So delicious, you'll never know it's Gluten Free.
Ingredients
1 box Gluten Free Waffles
1 cup Heavy whipping cream
1 tsp Vanilla extract
1 TB Confectioners' sugar
1/2 TB Maple syrup
2-3 oz Mike's hot honey
Smoked Paprika to taste
Preparation
Cook chicken nuggets according to package instructions.
Put a clean, medium sized mixing bowl in the fridge to cool (helps with making whipped cream).
Put heavy cream into the bowl and start to whip. A hand mixer will make this process faster but can also do by hand.
Once the cream starts to thicken, add vanilla and sugar, continue to beat until soft-medium peaks are achieved.
Cut prepared waffles into 1/4's and place a dollop of the maple whipped cream down and then placing a chicken nugget on top.
Drizzle Mike's hot honey over each waffle/nugget quarter and serve.
NOTE: Instead of cutting the waffles, this can also be served as a meal.
Featured Product
You may also like