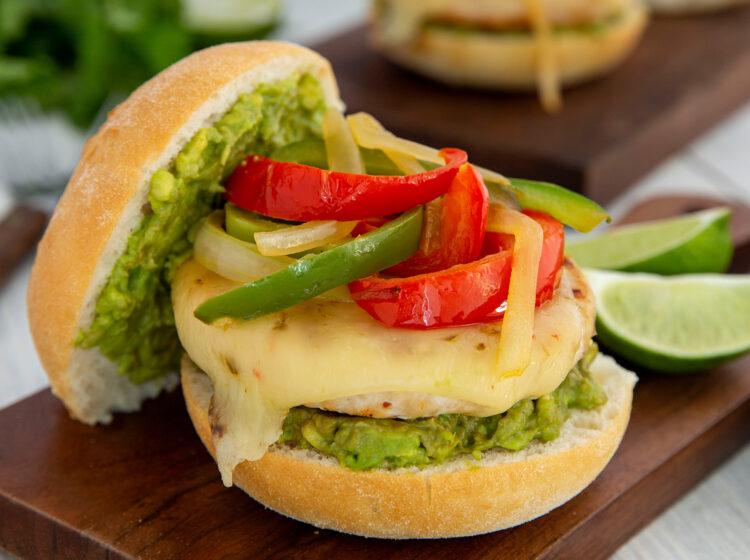 Gluten-Free Chicken Fajita Burgers
Serves: 4
Prep Time: inutes
Cook Time: inutes
Total Time: inutes
This Gluten-Free Chicken Fajita Burgers recipe that is a marriage of fajitas and burgers. In this case, chicken burgers. You'll love how easy this recipe is and how filling and satisfying it is!
"For the chicken burgers, I used Bell & Evans Chicken Burgers. I really love these burgers. You cook them frozen, and you can cook them on the grill or in a skillet. They don't have any fillers, yet they don't fall apart like other chicken burgers. Plus, they are ready in just 10-15 minutes." Gluten Free & More Magazine
Ingredients
4 tsp Fajita seasoning
4 slices pepper jack cheese
1 TB Olive oil
1 Red bell pepper, seeded, deveined, and thinly sliced
1 Green bell pepper, seeded, deveined, and thinly sliced
½ Red onion, thinly sliced
Kosher or fine sea salt
Black pepper
2 Avocados
Juice of 1 Lime
4 gluten-free hamburger buns
Preparation
Sprinkle both sides of the burgers with fajita seasoning and cook according to the package directions. During the last minute of cooking, top each burger with a slice of cheese, cover the burgers, and cook until the cheese has melted.
While the burgers are cooking, heat the oil in a large skillet over medium-high heat and add the peppers and onion. Season with a large pinch of salt and pepper. Cook, stirring occasionally, until the vegetables are softened and beginning to brown, about 8 minutes.
Smash the avocados with lime juice and season to taste with salt and pepper.
Spread avocado on both sides of the hamburger buns, add the burger, and top with vegetables.
Featured Product
You may also like