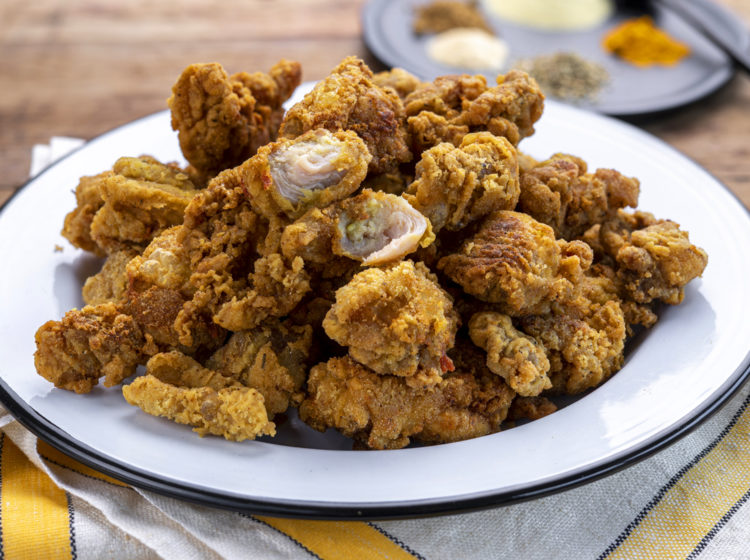 Gluten-Free Chicharrones de Pollo
Serves: 6
Prep Time: inutes
Cook Time: inutes
Total Time: inutes
If you're searching for the easiest, most delicious and flavorful Gluten Free appetizer, look no further!  These Gluten Free Chicarrones use our Boneless Skin-on Legs with the perfect spices.  Your guests will never know they're gluten free!
Ingredients
1 Family Pack Bell & Evans Boneless Skin-on Legs
1 ½ TB All-purpose adobo seasoning, divided
1 ½ TB white vinegar
1 TB Canola oil
1 ½ Cups Brown rice flour
½ tsp Cumin
½ tsp Turmeric
½ tsp Oregano
½ tsp Garlic powder
Canola or Peanut oil for frying
Preparation
Cut chicken, with skin, into bite-sized appetizer pieces. Place in a shallow dish.
Combine 1 tablespoon adobo seasoning, vinegar, and canola oil and pour over chicken. Toss to coat. Cover and place in refrigerator for 1 hour.
Combine flour, remaining adobo seasoning, cumin, turmeric, oregano and garlic powder.
Heat oil in a heavy pot or skillet to 350° F. Coat each piece of chicken in flour mixture and fry in batches until golden brown and crispy.
Drain chicken on paper towels and serve immediately.
Featured Product
You may also like