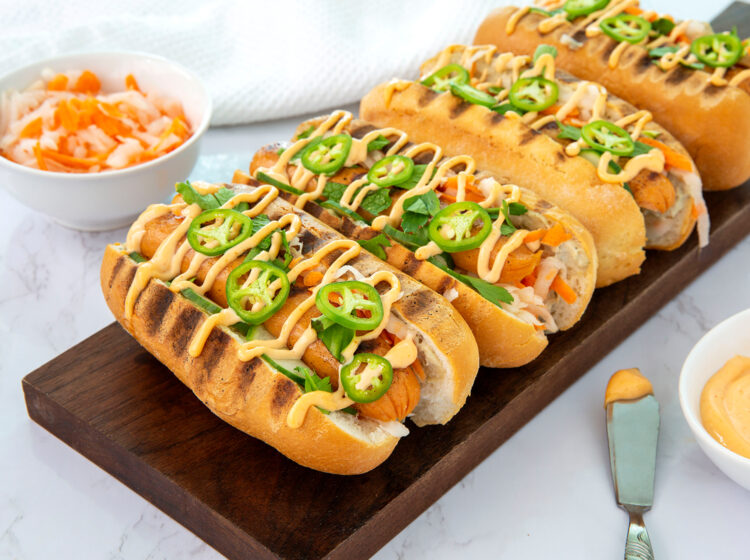 Gluten Free Banh Mi Hot Dogs
Serves: 6
Prep Time: inutes
Cook Time: inutes
Total Time: inutes
Just in time for Labor Day, this  Vietnamese-inspired spin on a regular hot dog makes it anything but boring. Our Organic Chicken Franks in this Gluten Free Banh Mi Hot Dog recipe are a tangy, delicious must.
Ingredients
½ Cup Shredded Daikon radish
½ Cup Shredded carrot
Seasoned rice vinegar
½ Seedless cucumber, thinly sliced
2 oz. Duck liver pate
½ Cup plus 3 TB Mayonnaise, divided
2 TB Sriracha sauce
3 TB each Fresh mint, basil, and cilantro
Vegetable oil
6 Gluten-free hot dog buns
2 Jalapeño peppers, thinly sliced
Preparation
Combine the radish and carrot in a small bowl. Add enough rice vinegar to barely cover. Gently toss and let sit. Put the cucumber in a small bowl, add about 2 tablespoons rice vinegar, gently toss, and let sit.
Combine the pate with 3 tablespoons mayonnaise and stir until smooth. Refrigerate until ready to assemble the hot dogs.
Combine ½ cup mayonnaise with the Sriracha sauce and refrigerate until ready to assemble.
Roughly chop the herbs, set aside.
Preheat the grill to medium-high. Oil the grates. Grill the hot dogs over direct heat, turning often, until charred and plump, about 5 minutes. Grill the hot dog buns.
Spread the buns with the pate mayonnaise. Add drained pickled radish and carrots, drained cucumber slices, herbs, and jalapeño pepper slices. Drizzle with spicy mayo and serve the rest on the side.