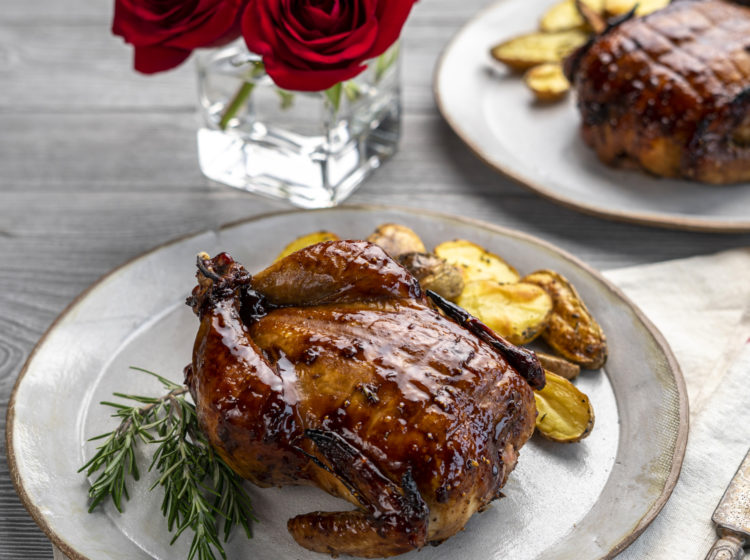 Fig & Rosemary Sticky Glazed Cornish Hens
Serves: 2
Prep Time: inutes
Cook Time: inutes
Total Time: inutes
Sweet and savory, these Cornish Hens are perfect for a romantic dinner for two or a celebratory dinner. They make serving a breeze, everyone gets their own special little chicken!
Ingredients
1/4 Cup Butter, softened
3 Cloves Garlic, minced
1 ½ TB fresh rosemary leaves, minced
2 tsp Salt
1 tsp Pepper
1/2 Cup Balsamic glaze
2/3 Cup Fig preserves
To Serve
8 - 10 small new potatoes, washed and dried
1 TB Olive oil
1 tsp Rosemary leaves, minced
Salt and pepper, to taste
Preparation
Heat oven to 400°F. Place a wire rack on a baking sheet; coat rack with cooking spray.
Combine butter and half of the garlic, rosemary, salt and pepper in a small bowl.
Tie ends of cornish hen legs together with twine. Rub herbed butter over hens. Set hens wing side up on wire rack on baking sheet.
Add balsamic glaze, preserves, remaining garlic and herbs to a small saucepan and bring to a boil; cook until slightly thickened, stirring occasionally.
Meanwhile, cut potatoes in half. Place potatoes in a small bowl and toss with olive oil, rosemary, salt and pepper. Spread on a parchment lined baking sheet and place in the oven to roast with the hens.
Brush hens lightly with glaze, reserving rest for basting.
Bake at 400°F for 15 minutes. Flip hens and brush with additional fig & rosemary glaze. Bake 40 minutes or until a thermometer inserted in the meaty part of thigh registers 165° F, brushing with fig & rosemary mixture every 10 minutes.
Remove hens and potatoes from oven. Let stand 5 minutes. Serve.
Featured Product
You may also like