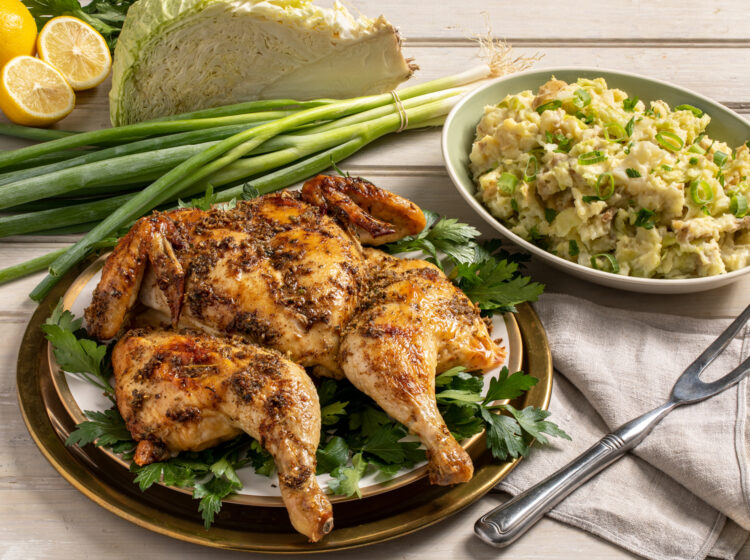 Fennel Herb Roasted Chicken with Colcannon
Serves: 4
Prep Time: inutes
Cook Time: inutes
Total Time: inutes
You don't need all day to prepare a St. Patrick's Day feast! Thanks to the convenience of Bell & Evans Whole Spatchcock Chicken — the flattened shape slashes cooking time — this traditional Irish meal, complete with cabbage-threaded colcannon, is ready in just over 90 minutes.
Ingredients
Fennel Herb Chicken
1/2 cup Unsalted butter, room temperature
1 TB Fennel seed, minced
1 TB Fresh chives, minced
1 Lemon, zested
1 1/2 tsp Salt
1 tsp Pepper
Colcannon
1 1/2 lb Yellow potatoes, cut into 2-inch pieces
4 TB Unsalted butter
2 cloves Garlic, minced
2 cups Chopped savoy cabbage
1 cup Whole milk
1/2 cup Heavy cream
Salt & pepper, to taste
2 Green onions, sliced thin
Preparation
For chicken: Preheat oven to 425°F and line a baking sheet with a wire rack. Combine butter, fennel, chives, lemon zest, salt and pepper in a medium bowl. Rub butter mixture over the chicken and under skin.
Roast until golden-brown, or until the internal temperature reaches 165°F as measured by a meat thermometer, about 45 minutes to 1 hour. Let rest before serving.
Meanwhile, for colcannon, cover potatoes with cold water in a medium pot. Bring to a boil over high heat and cook until fork-tender, about 10 minutes. Drain and set aside.
Meanwhile, melt butter in a large pot over medium heat. Add garlic and cook until fragrant, about 30 seconds. Stir in cabbage and cook until very tender, about 8-10 minutes. Add milk and cream and bring to a simmer, about 4 minutes.
Featured Product
You may also like