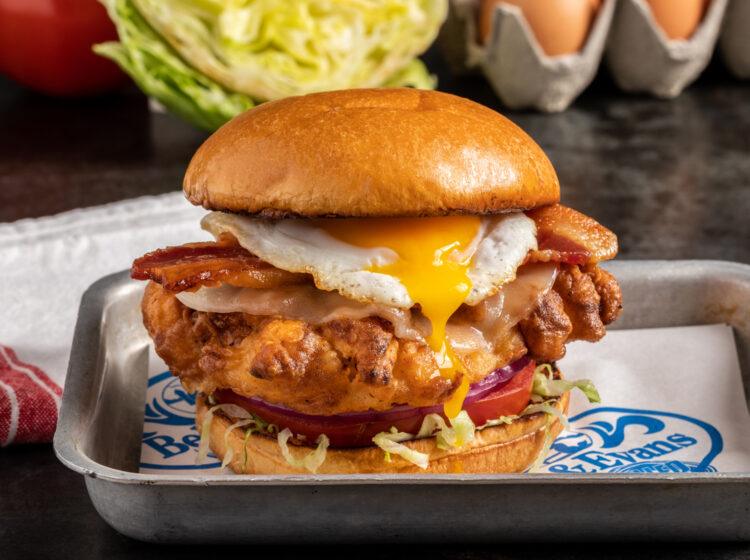 Farmhouse Chicken Sandwich
Serves: 4
Prep Time: inutes
Cook Time: inutes
Total Time: inutes
This ultimate farmhouse sandwich is bursting with flavor. It's stacked mile high with a perfectly fried buttermilk and pickle juice brined Bell & Evans Boneless Skinless Chicken Thigh, crispy bacon, all the trimmings and finished with a fried egg. One bite into this sandwich will have your taste buds exploding!
Ingredients
1 cup Buttermilk
1 cup Dill pickle juice
1 1/2 tsp Salt, divided
1 cup All-purpose flour
1 tsp Garlic powder
1/2 tsp Paprika
Canola oil, for frying
4 Hamburger buns, toasted
2 cups Shredded Iceberg lettuce
1/2 Small Red onion, thinly sliced
1 Beefsteak tomato, sliced thick
4 Slices Provolone cheese
8 Slices Bacon, crisp-cooked
4 Eggs, fried
Preparation
Whisk together buttermilk, pickle juice and 1 teaspoon salt in a medium bowl. Add the chicken thighs and mix to combine. Cover the bowl with plastic wrap and refrigerate for at least 6 hours or up to 12 hours.
Place a wire rack in a rimmed baking sheet. Whisk together flour, garlic powder, paprika and remaining 1/2 teaspoon salt in a medium bowl. Working with one chicken thigh at a time, remove chicken from brine, allowing excess mixture to drip back into the bowl, and transfer to the flour mixture to completely coat. Transfer to wire rack.
Fill a Dutch oven with 2 inches of oil and heat to 350°F over medium-high heat.
Carefully add 2 pieces of chicken to the hot oil and fry for 8-10 minutes, flipping halfway through, until golden brown and the internal temperature reaches 165°F. Line the wire rack with paper towels and transfer cooked chicken to drain. Repeat frying process with remaining chicken.
Evenly divide lettuce between each bottom bun and top with red onion slices and a slice of tomato. Layer a fried chicken thigh over each tomato slice.
Top each chicken thigh with a slice of cheese, two slices of bacon and one fried egg. Finish with top buns.
Featured Product
You may also like