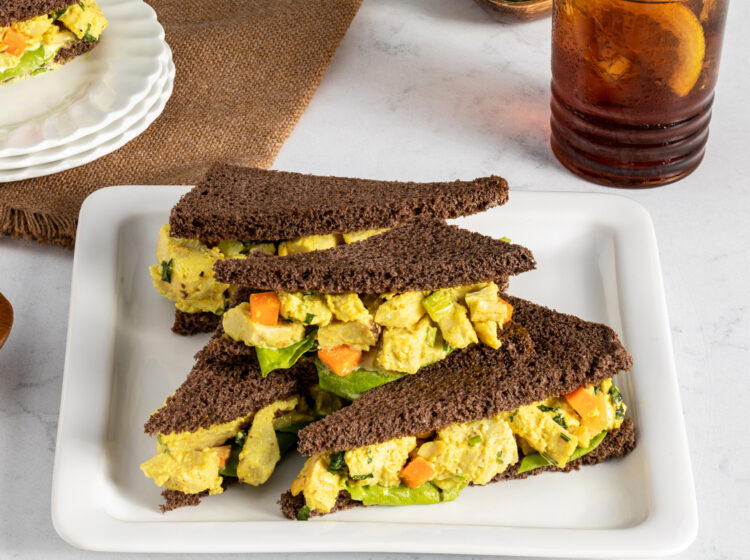 Curry Cashew Chicken Salad Tea Sandwiches
Serves: 6
Prep Time: inutes
Total Time: inutes
Our version of trendy tea sandwiches packs plenty of bold, robust flavors in an elegant little package! The creative chicken salad (which is so simple to pull together using Bell & Evans Fully Cooked Grilled Diced Chicken Breast) is dressed with a delightful curry, lime and honey mayonnaise, and given a satisfying crunch with the addition of cashews, carrots and celery. Served with bibb lettuce on soft bread — crusts cut off, of course — these make for a lovely light lunch or afternoon snack.
Ingredients
1/2 cup Mayonnaise
1/2 Lime, juiced
2 tsp Honey
1 1/2 tsp Curry powder
1 tsp Salt
1/4 tsp Garlic powder
1/4 tsp Pepper
1/8 tsp Ground ginger
4 Stalks celery, chopped
1 medium Carrot, chopped
1/2 cup Chopped cashews
1/4 cup Chopped fresh cilantro
12 slices pumpernickel, whole wheat, or white bread
1 head Bib lettuce, leaves separated
Preparation
Whisk mayonnaise, lime juice, honey, curry powder, salt, garlic powder, pepper and ginger together in a large bowl until combined. Add chicken, celery, carrot, cashews and cilantro and toss to coat.
Cover with plastic wrap and refrigerate for at least 30 minutes, until flavors develop.
Spread chicken mixture evenly over 6 slices of bread. Top with lettuce leaves and remaining bread slices. Using a sharp knife, cut crusts off sandwiches. Cut each sandwich into 4 triangles or 3 rectangles. Serve and enjoy.
Featured Product
You may also like