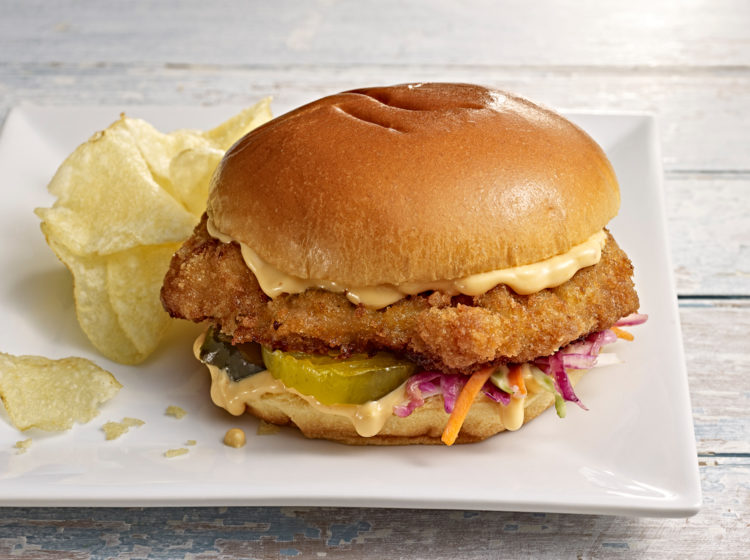 Crunchy OMG Chicken Sandwich
Serves: 4
Prep Time: inutes
Cook Time: inutes
Total Time: inutes
People who love our Breaded Chicken Patties, really love our Breaded Chicken Patties. That's why they are now available in a 30 oz. resealable bag.  Pair them with homemade coleslaw and spicy sriacha sauce, then top with a crusty bun. #WinnerWinnerChickenDinner
Ingredients
4 Bell & Evans Breaded Chicken Patties in the freezer section
3/4 Cup Mayonnaise, divided
2 T Sriracha
1/2 Cup Dill pickle relish
1 T Apple cider vinegar
1 tsp Granulated sugar
1 Small Head green cabbage, quartered and thinly sliced
1 Small Yellow onion, thinly sliced
Salt and pepper, to taste
4 Soft hamburger buns
Preparation
Preheat oven to 475ºF. Set wire rack in rimmed baking sheet. Spread frozen chicken evenly on wire rack and bake 30-40 minutes, until breading is crunchy and chicken reaches internal temperature of 170º.
While chicken cooks, prepare toppings. Combine 1/2 cup mayonnaise and sriracha together in small bowl and set aside.
Combine remaining mayonnaise with relish, vinegar and sugar in large mixing bowl. Add cabbage and onion and toss until cabbage is well coated. Season with salt and pepper to taste. Cover and refrigerate until ready to serve. Stir again just prior to serving.
Remove finished chicken from oven and transfer to plate. Preheat oven to broil. Arrange hamburger bun halves cut side up on wire rack and broil 1 minute, or until just golden.
Spread sriracha mayonnaise on bottom halves of hamburger buns and top with crunchy chicken thigh. Layer relish on chicken and top with bun.
Featured Product
You may also like