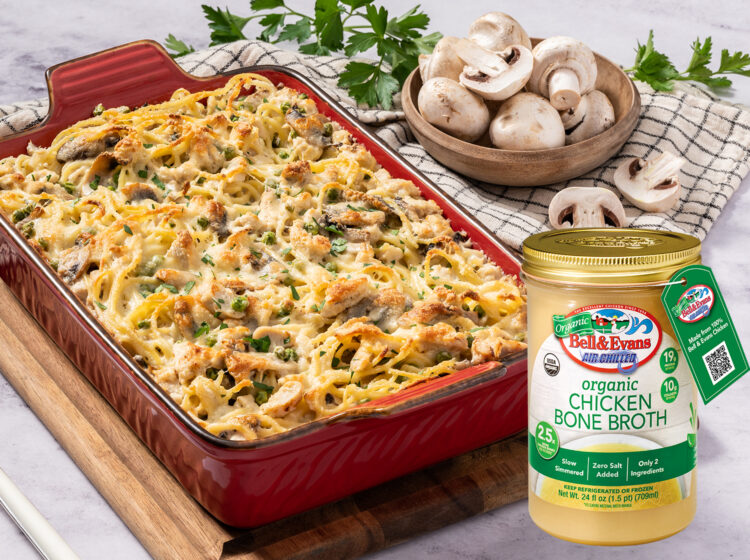 Creamy Chicken Tetrazzini
Serves: 8
Prep Time: inutes
Cook Time: inutes
Total Time: inutes
Though this retro-inspired pasta dish is named after an Italian opera star from the early 1900s, Luisa Tetrazzini, it's a purely American invention. Chicken, vegetables and noodles are tossed in a gloriously creamy sauce and then showered with grated Parmesan and baked in a casserole. The finished dish is a satisfying combination of textures and flavors with a golden, crunchy top.
Ingredients
12 oz Spaghetti
8 TB Unsalted butter, divided, plus more for greasing dish
1 lb White button mushrooms, cleaned and sliced
1 medium Yellow onion, chopped
5 cloves Garlic, minced
2 tsp Minced fresh thyme
1/2 cup Dry white wine
1/3 cup All-purpose flour
4 cups Milk
1 cup Frozen peas
1 cup Grated Parmesan cheese
1/4 cup Chopped fresh parsley
Preparation
Fill a large pot with water and bring to a boil over high heat. Cook the spaghetti according to package directions; drain and set aside.
Preheat oven to 400°F and grease a 9x13-inch baking dish with butter. Melt 3 tablespoons butter in a large skillet over medium-high heat. Add mushrooms and cook, stirring occasionally until light golden-brown, about 10-12 minutes. Stir in onion, garlic and thyme, and cook until softened, about 4-6 minutes. Add wine and simmer until fully evaporated, about 2 minutes. Transfer mushroom mixture to bowl and set aside.
Melt remaining butter in the same skillet over medium-high heat. Stir in flour, and cook until no lumps remain, about 1 minute. Stir in milk and broth and simmer, stirring occasionally, until thick, about 8-10 minutes. Stir in cooked spaghetti, chicken, mushroom mixture and peas until well-coated.
Transfer pasta mixture to prepared baking dish. Sprinkle with Parmesan cheese, and bake until the top is light golden-brown, about 20-25 minutes. Top with parsley, and serve.
Featured Product
You may also like