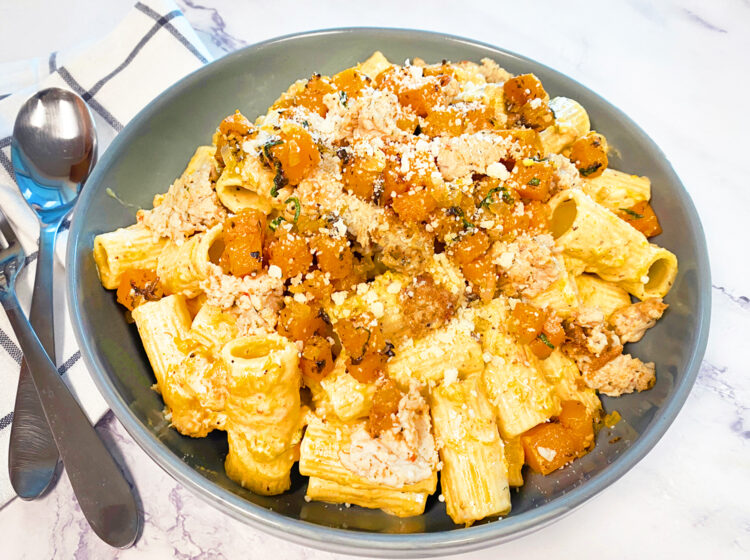 Creamy Chicken Butternut Squash Truffle Pasta
Serves: 6
Prep Time: inutes
Cook Time: inutes
Total Time: inutes
Bell & Evans Italian Seasoned Ground Chicken lends an Italian theme to this Creamy Chicken Butternut Squash Truffle Pasta dish, while the slightly sweet roasted butternut squash sprinkled with nutmeg gives it that savory-sweet creamy deliciousness.
Ingredients
3lb Whole butternut squash
1 TB Extra virgin olive oil (to roast the squash)
3/4 Stick Salted butter
1 Lg Shallot minced
1 1/2 tsp Garlic minced
3/4 tsp Ground nutmeg
10 oz Chicken broth
16 oz Heavy cream
1 1/2 TB Flour
1 lb Dried pasta of choice
1 Cup Grated Parmesan cheese
1 1/2 TB Black truffle paste
15 Lg Sage leaves, sliced
Salt and fresh cracked pepper to taste
Preparation
Cut off the top 1/3 of the squash and peel and dice it into 1/2 inch squares. Set aside.
Split the bottom 2/3 of the squash and remove the seeds but leave the rind on. Season the bottom halves lightly with EVOO, salt and pepper, and roast the bottom halves with the flesh facing down at 350° until soft. Remove from oven and once cool, remove the flesh and break apart by hand, set aside in a bowl. Discard the rind.
Bring a large pot of water to a full boil and season with salt (should taste like the ocean).
Place a 3-quart saucepan or pot over medium heat and add 2 TB butter. Once the butter is melted and starts to bubble, add the Italian ground chicken, searing until golden brown. Mix thoroughly to break up the meat. Remove the chicken from the pan when fully browned.
In the same pot used to brown the chicken, add 2 TB of butter and diced squash. Sauté the squash until lightly browned. Reduce heat, add shallots, garlic and sweat cook until soft, about 2 minutes. Mix in 1/3 of the sliced sage and 1t of the truffle paste. Remove from pan and set aside.
In that same pot, add remaining butter, nutmeg, and flour, mixing to incorporate. Add chicken broth and cream, whisking for 1 minute. Reduce heat and add remaining truffle paste, roasted squash flesh and cooked chicken. Let this mixture simmer lightly.
Cook pasta in the boiling water according to directions.
Add parmesan cheese (reserve 2 tablespoons for later) to the sauce mixture, whisking until incorporated. Mix in remaining sliced sage leaves and season to taste with salt and pepper.
Add cooked pasta to the sauce. Top with the diced squash and truffle mixture and remaining grated parmesan and serve.