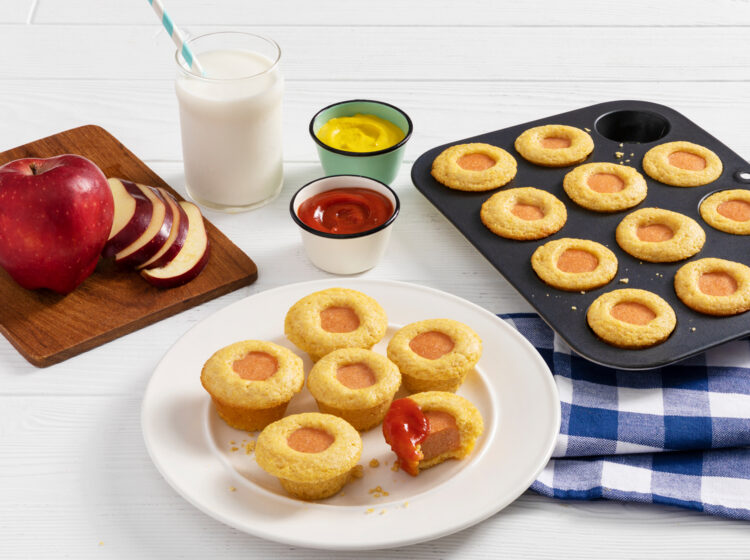 Corn Dog Mini Muffins
Serves: 8
Prep Time: inutes
Cook Time: inutes
Total Time: inutes
Back-to-school time means you can't have too many snacks on hand for your star students! These corn dog mini-muffins, with Fully Cooked Chicken Franks — preservative-free and additive-free — baked into golden cornbread, make the perfect after-school nosh.
Bonus: Pack up leftovers for lunch the next day.
Ingredients
8 Bell & Evans Fully Cooked Chicken Franks cut into 4 equal pieces
3/4 cup All-purpose flour
3/4 cup Whole wheat flour
1/2 cup Finely ground cornmeal
1/4 cup Granulated sugar
1 tsp Salt
1 TB Baking powder
1 1/4 cups Milk
2 Large eggs, slightly beaten
1/4 cup Light olive oil
3 TB Butter, melted
Preparation
Preheat oven to 400°F. Spray mini-muffin tin with cooking spray.
In a large bowl, whisk together flours, cornmeal, sugar, salt, and baking powder. Make a well in the middle and set aside.
In a small bowl, whisk together milk, eggs, oil, and butter. Pour wet ingredients into dry ingredients and stir until just mixed.
Fill mini-muffin cups half-full with batter and insert one piece of chicken frank into the center of each one.
Bake for 12 minutes, or until muffins start to turn golden on the edges. Cool in the pan for 5 minutes, then turn out to cool on a wire rack or dish towel.
Serve warm with your favorite dipping sauces.
Featured Product
You may also like