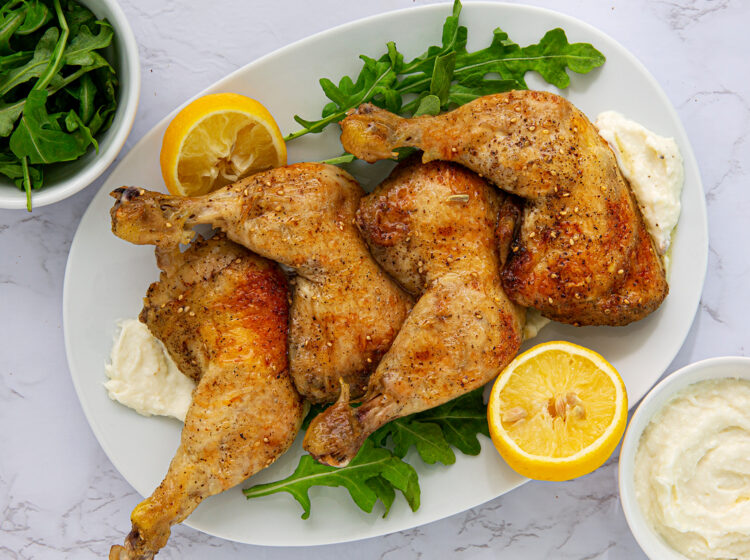 Copycat Za'atar Chicken Legs with Garlic Sauce
Serves: 4
Prep Time: inutes
Cook Time: inutes
Total Time: inutes
Anyone who has spent time in Los Angeles is probably familiar with Zankou Chicken, a small family-owned chain of fast-food restaurants that specialized in roasted chicken and their secret garlic sauce. For this gluten-free copycat version of Za'atar Chicken Legs with Garlic Sauce recipe, we roasted Bell & Evans whole chicken legs.
Source: Gluten Free & More Magazine
Ingredients
For the Chicken
1/4 Cup Olive oil
Juice and finely grated zest of 1 lemon
2 TB Za'atar seasoning
1 tsp Kosher or fine sea salt
½ tsp Black pepper
For the Garlic Sauce
1 Lb. Russet potatoes, peeled and cut into chunks
1-2 Whole heads of garlic (12-24 garlic cloves)
¼ Cup fresh lemon juice
1 tsp Kosher or fine sea salt
½ Cup Neutral-flavored oil
Preparation
Place chicken legs in a large food storage bag or covered glass container. Mix the rest of the chicken ingredients and pour over. Make sure the chicken is well coated with the marinade. Marinate for 2 hours or up to overnight.
While the chicken marinates, make the garlic sauce.
Boil the potatoes until very tender in salted water. Drain the water, put the pan back on the stove, and mash the potatoes over heat until smooth and dry.
Put the peeled garlic cloves, lemon juice, and salt in a small food processor. Process until smooth. Add just enough oil to cover and process. Continue to add oil, a little at a time, while the processor is running, until the oil is incorporated. Add about ¼ cup of the potatoes and process. Continue to add potatoes, about ¼ cup at a time, and process until all the potatoes are incorporated and the mixture is smooth. Cover and refrigerate for at least 2 hours.
Remove the chicken from the fridge and let sit at room temperature while the oven preheats.
Preheat the oven to 400 degrees. Line a rimmed baking sheet with parchment paper.
Place the chicken on the prepared baking sheet, skin-side up. Discard marinade. Roast for 45 minutes or until browned and the internal temperature reaches 165 degrees. Serve with the garlic sauce.
Featured Product
You may also like