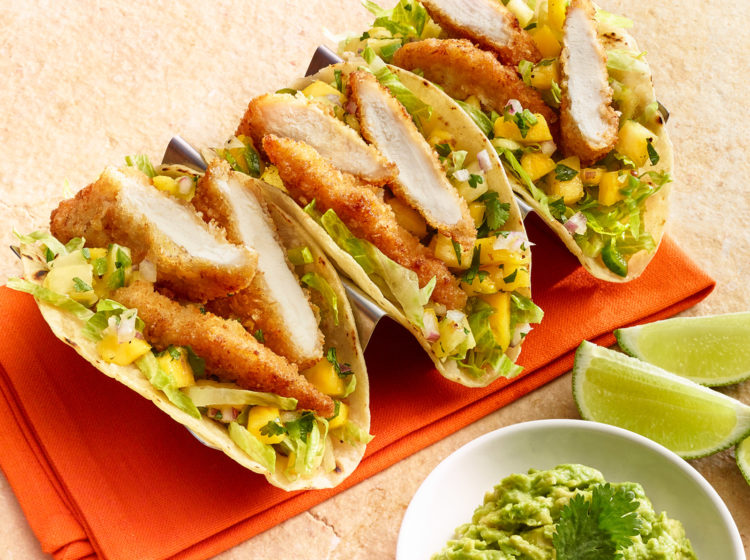 Coconut Chicken Tacos With Mango & Pineapple Salsa
Serves: 6
Prep Time: inutes
Cook Time: inutes
Total Time: inutes
Take a trip to the tropics with these sweet and savory Coconut Chicken Tacos!  Fresh-made mango and pineapple salsa coupled with creamy chipotle cream perfectly compliment crunchy Coconut Tenders.  Hold onto this one…it's sure to be a hit!
Ingredients
Vegetable Oil for frying chicken
12 Corn Tortillas (or flour if you prefer)
Salsa
1 ½ Cups Pineapple, small diced
1 ½ Cups Mango, small diced
½ Small Red Onion, finely diced
2 T Fresh Cilantro, roughly chopped
1 T Honey
1 Lime, juiced
1 Jalapeno, seeds removed, finely diced
Salt & Pepper, to taste
Guacamole
2 Avocados
2 Garlic Cloves, finely minced
1 Lime, juiced
Salt & Pepper, to taste
Chipotle Cream
1 Chipotle, from a can of chipotles in adobo sauce
1 Cup Sour Cream
1-3 T Heavy Cream, thin to desired consistency
Salt & Pepper, to taste
Garnish
½ Head Romaine Lettuce, shredded
Fresh Cilantro
Lime Wedges
Preparation
Prepare Salsa: Mix all ingredients until well blended. Season with salt & pepper, to taste
Prepare Guacamole: Smash avocado to desired consistency. Blend with remaining ingredients. Mix well and season with salt & pepper, to taste.
Prepare Chipotle Cream: Place all ingredient s in a food processor. Blend until smooth. Season with salt & pepper, to taste
Wrap tortillas in foil and keep warm in a 300°F oven for 20 minutes until ready to serve. Alternatively, lightly brush with oil and grill until golden brown. Do this method when ready to serve.
Prepare Coconut Tenders: In a large skillet heat oil (1/8" deep) over medium heat until it reaches 350°F. Carefully add chicken tenders to hot oil and cook approximately 10 minutes, turning halfway through until both sides are golden brown. Fully cook to an internal temperature of 170°F as measured by a meat thermometer. Remove Chicken from oil and transfer to a paper towel-lined plate.
Allow chicken to cool 5 minutes and cut each tender into thirds.
To Serve
Arrange fixings on a large platter and serve tacos family style.
Featured Product
You may also like