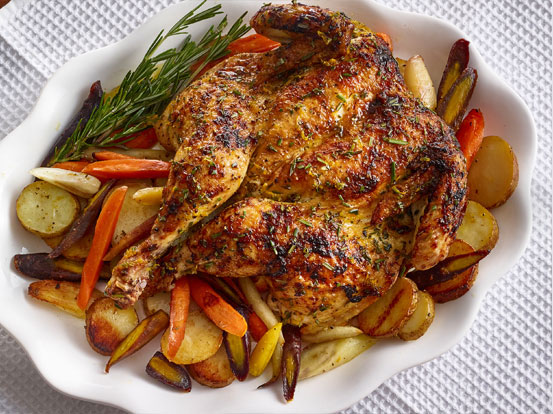 Citrus Honey & Rosemary Roasted Spatchcock Chicken
Serves: 6
Prep Time: inutes
Cook Time: inutes
Total Time: inutes
Whole, Spatchcocked, juicy and flavorful chicken enhanced with fresh rosemary, citrus and honey flavors make this quick cooking Spatchcock Chicken Recipe indescribably delicious.  Whether you're making a glamorous, white table dinner with friends or a home-cooked family meal, this recipe will soon be on your go-to list for dinner.
Ingredients
Brined Chicken
½ Cup granulated sugar
½ Cup kosher salt
3 Qt. cold water
Citrus Honey Rosemary Butter
1 Stick unsalted butter
2 Oranges, finely zested
¼ Cup honey
1 T Fresh rosemary, finely chopped
Salt & pepper, to taste
Vegetables
4 Yukon gold potatoes, washed & sliced
4 Carrots, peeled & sliced
4 T Olive oil
Salt & pepper, to taste
Preparation
Brined Chicken
Combine sugar, salt and cold water. Mix ingredients to dissolve.
Add chicken to brine. Cover and refrigerate 6-8 hours.
Citrus Honey Rosemary Butter
In a small sauce pan over low heat melt butter.
Remove from heat. Add orange zest, honey and rosemary.
Season with salt and pepper.
Chicken & Vegetables
Preheat oven to 375°F.
Remove chicken from brine and pat dry.
Season with salt and pepper.
Warm 2T of olive oil over medium-high heat in a large skillet.
Place chicken skin side down and sauté until golden brown, approximately 5 minutes. Repeat with other side.
Remove chicken from skillet and place in a roasting pan skin side up. Brush generously with citrus butter.
Toss potatoes and carrots with 2T of olive oil. Season with salt and pepper. Place in a separate roasting pan or baking tray.
Roast chicken and vegetables for 45 minute to an hour until vegetables are tender and chicken is thoroughly cooked to an internal temperature of 170°F as measured by a meat thermometer.
Baste chicken with remaining citrus honey rosemary butter, cover with foil and let rest for 10 minutes before carving.
Featured Product
You may also like