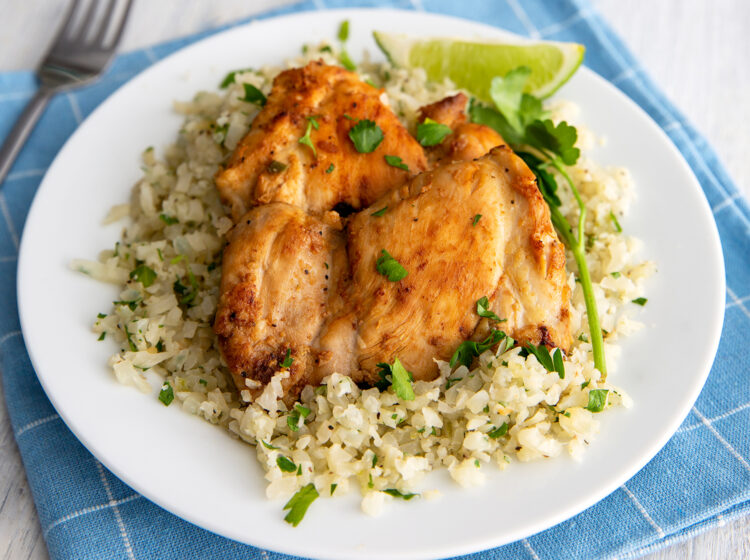 Cilantro Jalapeño Lime Chicken Thighs with Cilantro Lime Cauliflower Rice
Serves: 4
Prep Time: inutes
Cook Time: inutes
Total Time: inutes
This Cilantro Jalapeño Lime Organic Boneless Skinless Chicken Thighs with Cilantro Lime Cauliflower Rice recipe is an excellent recipe for an easy weeknight meal. Make the marinade in the morning and then by dinnertime, just cook the chicken and the cauliflower rice. It's keto friendly too!
Source: Gluten Free and More
Ingredients
For the Chicken Thighs
1/2 cup plus 2 TB Olive oil
2 Limes, finely zested and juiced, divided (zest of one lime for rice)
2 Lg Cloves garlic, finely minced
1 Jalapeño pepper, seeded, deveined, and finely minced
1 tsp Onion powder
1 tsp Garlic powder
1 1/2 tsp Kosher or fine sea salt
3/4 tsp Black pepper
For the Cauliflower Rice
2 (10 ounce) bags frozen cauliflower rice
1 TB Olive oil
1 TB Butter
Zest of 1 lime (from chicken ingredients)
1/2 cup Cilantro, finely chopped
Kosher or fine sea salt to taste
Black pepper to taste
Preparation
Make the Chicken
Place the chicken thighs in a large food storage bag. Combine olive oil, lime juice, zest of 1 lime, garlic, jalapeño, onion and garlic powders, salt, and pepper in a bowl and whisk to combine. Add to the chicken and marinate for 20 minutes at room temperature or up to 8 hours refrigerated.
If refrigerated, allow to sit at room temperature for a few minutes before cooking.
Heat 2 tablespoons olive oil in a large skillet over medium heat until it starts to sizzle. Shake the marinade off the chicken thighs and place in the skillet, being careful not to over crowd (cook in batches if needed). Cook for 5 minutes or until browned. Flip and cook for another 5-7 minutes or until browned and the chicken has reached an internal temperature of 165 degrees. Discard marinade. Let rest a few minutes before serving with Cilantro Lime Cauliflower Rice.
Make the Cauliflower Rice
Cook the cauliflower rice per the package instructions. Heat the oil and butter in a large skillet over medium heat until the butter has melted, and the oil starts to sizzle.
Add the cooked cauliflower rice and cook for 2-3 minutes or until the cauliflower has dried out. Add the grated zest of 1 lime and the cilantro. Season to taste with salt and pepper.
Featured Product
You may also like