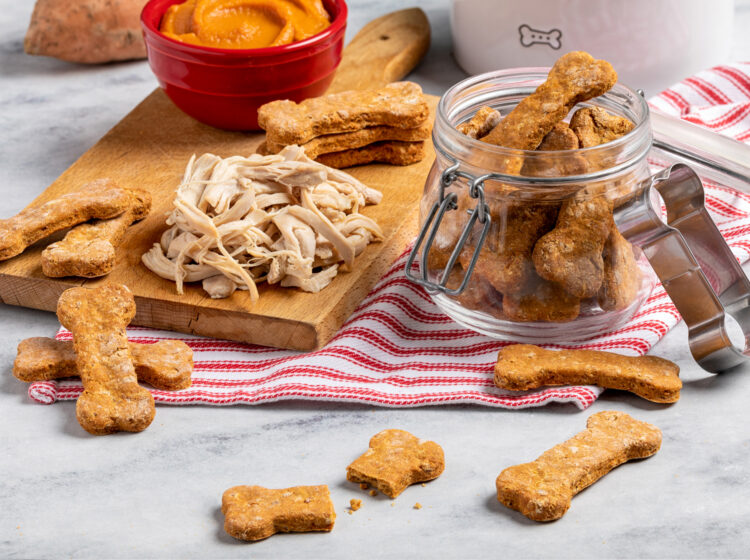 Chicken & Sweet Potato Dog Biscuits
Serves: 45
Prep Time: inutes
Total Time: inutes
Looking to give your furry friend a special treat? With just four wholesome ingredients, these homemade dog biscuits are a great alternative to the store-bought, processed brands. With Bell & Evans Boneless, Skinless Chicken Thighs and eggs for protein, and sweet potatoes for digestive health, your dog will love the taste — and you'll appreciate the nutritional benefits.
Ingredients
1 cup Mashed sweet potatoes
4 Lg Eggs
3-4 cups Whole wheat flour plus more for dusting
Preparation
Fill a small pot halfway with water. Bring to a simmer over medium heat. Add chicken and poach, until internal temperature reaches 165°F as measured by a meat thermometer, about 6-8 minutes. Transfer chicken to a food processor and pulse until finely chopped.
Preheat oven to 350°F and line 2 rimmed baking sheets with parchment paper. Using a hand mixer, mix chicken, sweet potato and eggs together until combined. Add flour, and mix until a smooth dough forms, adding more as needed.
On a lightly floured work surface, roll dough out to 1/4-inch thickness. Cut dough with a 3-inch bone cookie cutter. Place biscuits evenly on prepared baking sheets. Bake until biscuits are completely dried and crispy, about 20-30 minutes. Store in an airtight container until ready to serve.
Featured Product
You may also like