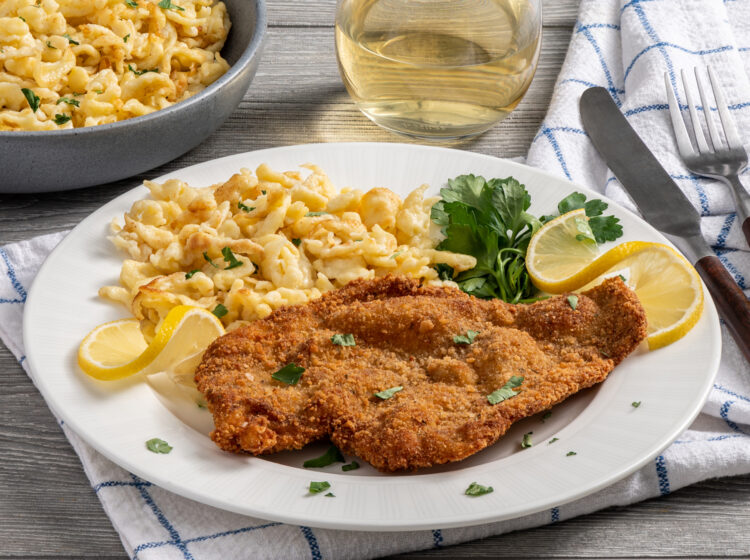 Chicken Schnitzel with Buttered Spaetzle
Serves: 4
Prep Time: inutes
Cook Time: inutes
Total Time: inutes
Lean into cozy fall comfort-food with this German-cuisine-inspired dish! Chicken schnitzel is a crunchy, delicious meal that the whole family will love (even the pickiest eaters!), and homemade buttery spaetzle is a special touch that adds a hearty component to the plate. Don't forget fresh lemon wedges for serving!
Ingredients
Chicken
4 Bell & Evans Thin Sliced Boneless, Skinless Chicken Breasts
Salt and black pepper, to taste
1 cup All-purpose flour
1 cup Plain bread crumbs
3 large Eggs, lightly beaten
Vegetable oil, for pan-frying
1 Lemon, cut into wedges
Spaetzle
2 cups All-purpose flour
1 tsp Salt, plus more to taste
1/2 cup Milk
4 large Eggs, lightly beaten
4 TB Unsalted butter
1/4 tsp Ground nutmeg
Chopped fresh parsley, for garnish
Preparation
For spaetzle: Whisk flour and 1 teaspoon salt together in large bowl until combined. Add milk and eggs to flour mixture in 2 additions until smooth. Let batter rest for 10 minutes.
Meanwhile, bring large pot of salted water to boil. Working in batches, spoon batter into potato ricer or spaetzle maker. Slowly press batter into boiling water, shaking the ricer occasionally to release spaetzle. Boil, stirring often, until cooked through and tender, 3-5 minutes. Using a large slotted spoon, transfer spaetzle to colander; rinse with cold water. Set aside and let cool to room temperature.
For chicken: Meanwhile, season chicken with salt and pepper, to taste. Add flour, bread crumbs and eggs to 3 separate shallow bowls. Dredge breasts in flour, egg, then bread crumbs, shaking off excess.
Heat 1/4-inch oil in large skillet over medium-high heat. Working in batches, fry chicken until golden-brown or until internal temperature reaches 165°F, about 3-4 minutes per side. Transfer to a paper-towel-lined plate and let drain.
Heat butter in large skillet over medium-high heat. Add cooked spaetzle and cook, flipping just once, until crisp and light golden-brown, about 3-5 minutes. Season with nutmeg and salt.
Garnish spaetzle with parsley and serve with chicken and lemon wedges.
Featured Product
You may also like