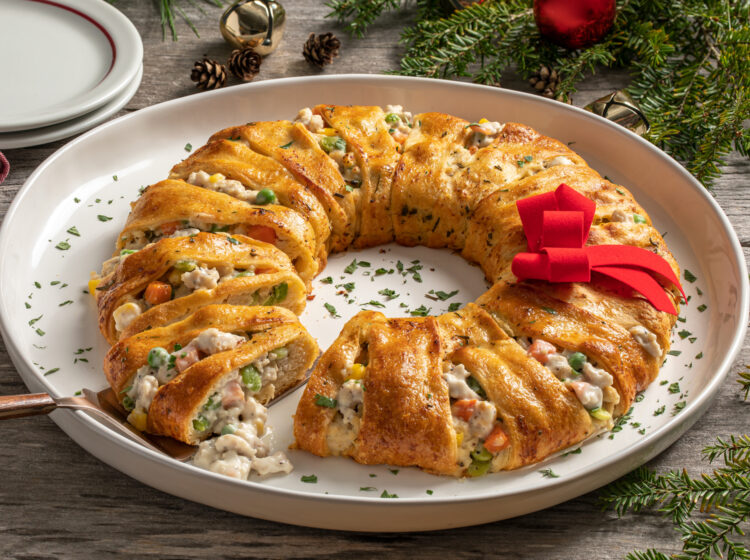 Chicken Pot Pie Crescent Wreath
Serves: 8
Prep Time: inutes
Cook Time: inutes
Total Time: inutes
A classic holiday main dish meets a Pinterest-worthy concept in this stunning centerpiece. Making chicken pot pie filling from scratch with Bell & Evans Ground Breast Meat adds an extra-special homey touch, while using canned crescent rolls saves precious time during your
busy holiday preparations!
Ingredients
2 TB Olive oil
1/4 cup All-purpose flour
2 1/2 cups Milk
1 bag (10 oz) Mixed organic frozen vegetables
1 1/2 tsp Salt
1 tsp Pepper
2 cans (8 oz) Crescent rolls
1/4 cup Unsalted butter, melted
3 cloves Garlic, finely grated
1 tsp Fresh rosemary, minced
Preparation
Preheat oven to 375°F and line a baking sheet with parchment paper. Heat oil in a large skillet over medium-high heat. Add ground chicken and cook, breaking up into small crumbles with a wooden spoon until fully cooked, about 8 minutes. Stir in flour, and cook until no lumps remain, about 1 minute. Stir in milk, and simmer, stirring occasionally, until thick, about 8-10 minutes Remove from heat and let cool to room temperature.
Mix cooked ground chicken mixture, vegetables, salt and pepper together in a large bowl until combined. Set aside for filling crescent rolls.
Unroll crescents and separate into 16 triangles. Overlap triangles on a prepared baking sheet so that the short sides of triangles form a wreath shape.
Spoon chicken mixture on the half of each triangle closest to the center of the ring. Fold each triangle over the filling, tucking under the bottom layer of triangle to seal it. Repeat around entire wreath until the filling is covered.
Mix butter, garlic and rosemary together in a small bowl. Brush wreath with butter mixture until coated. Bake until golden-brown and fully cooked, about 20-25 minutes. Serve and enjoy.
Featured Product
You may also like