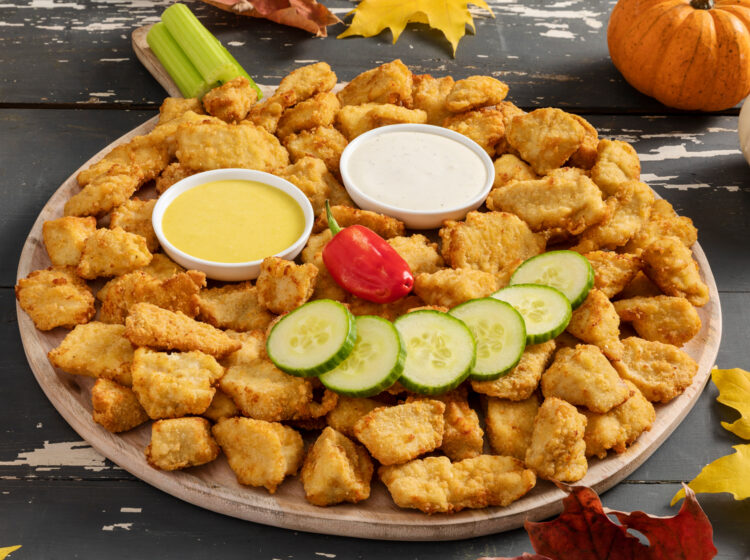 Chicken Nugget Pumpkin Tray
Serves: 12
Prep Time: inutes
Cook Time: inutes
Total Time: inutes
This super-cute snack platter is a spooktacular addition to your Halloween party spread! Our best-selling chicken nuggets create a pumpkin shape, with tasty dipping sauces and veggies creatively arranged to make an autumn-inspired appetizer that everyone — especially little ones — will love.
Ingredients
4 boxes Bell & Evans Chicken Nuggets
1/4 cup Yellow mustard
2 TB Dijon mustard
2 TB Mayonnaise
2 TB Honey
1-2 Stalks celery
1/2 English cucumber, cut into thin slices
1 Mini bell pepper
1/2 cup Organic ranch dressing
Preparation
Bake: Preheat oven to 375°F. Spread frozen nuggets on a baking sheet and bake for 25-30 minutes.
Meanwhile prepare the honey mustard dip. In a small bowl stir together mustards, mayonnaise and honey until well-combined.
Spread baked chicken nuggets over a large round tray so that the entire tray is covered.
Place ranch dressing in another small bowl. Place ranch and honey mustard dips in the middle of the tray for the eyes.
Place cucumber slices over the nuggets in the shape of a smiling mouth.
Place one mini bell pepper in the center of the tray for the nose.
Slice celery stalk into pieces and arrange at the top of the tray to look like a stem.