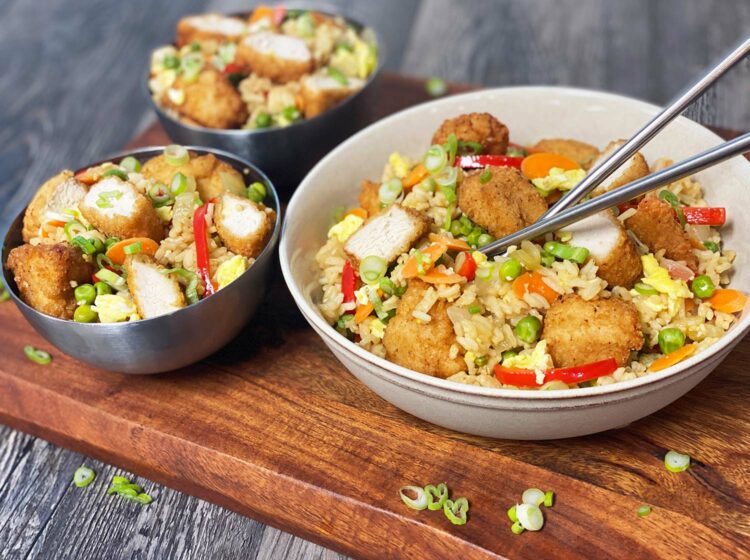 Chicken Nugget Fried Rice
Serves: 4
Prep Time: inutes
Cook Time: inutes
Total Time: inutes
Bell & Evans Chicken Nuggets add extra crunch to your Chicken Fried Rice.  Another great family dinner on the table in less than 30 minutes!
Ingredients
2 cups Cooked white rice
1/2 cup Red bell peppers (cut into thin strips)
1/2 cup Carrots (cut into coins or diced)
1/2 cup Frozen peas
1 TB Chopped garlic
1 ea Egg
2 oz Soy sauce
1 tsp Sesame oil
1 tsp Mirin
1/2 tsp Cayenne pepper
1 ea Scallion (sliced and washed)
Preparation
Prepare Bell & Evans Chicken Nuggets according to package directions.
Cook rice, cool and reserve (can be done a day ahead).
Heat a large sauté pan and once hot, add oil, peppers, onion, peas and carrots. Mixing with a spoon, sauté the vegetables for about 3 minutes and then add garlic.
Move vegetables to the side of the pan and scramble egg on the other side, chop it lightly to create smaller pieces.
Add rice to pan and mix all ingredients until incorporated. Add soy, sesame oil and mirin.
Divide mixture between 4 bowls and top with chicken nuggets and sliced scallions.
Featured Product
You may also like