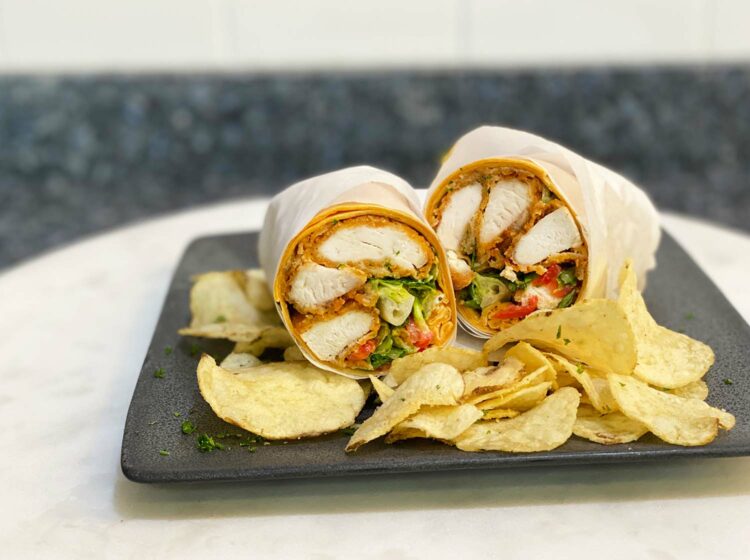 Chicken Nugget Caesar Wrap
Serves: 4
Prep Time: inutes
Cook Time: inutes
Total Time: inutes
Your favorite salad now in a wrap! Even better, our delicious 100% whole breast meat chicken nuggets make dinner time a snap.  Forget bottled dressings with ingredients you can't pronounce– Try our recipe for Homemade Caesar Dressing and kick this wrap up a notch.
Ingredients
2 ea Large Sandwich wraps
2 ea Romaine Hearts (washed and chopped)
2 TB Grated Parmesan
2 TB Chopped Parsley
1/2 cup Grape Tomatoes (sliced or quartered)
Homemade Caesar Dressing
1 tsp Dijon Mustard
1 TB Lemon juice (use fresh)
1 1/2 tsp Worcestershire Sauce
3/4 cup Mayonnaise
1/4 cup Sour Cream
1 tsp Chopped Garlic
1/2 cup Grated Parmesan
1/2 tsp Anchovy Paste
1/2 tsp Kosher Salt
3/4 tsp Black Pepper (fresh ground)
Preparation
Prepare Chicken Nuggets according to package directions.
Wash and chop romaine lettuce, drain well.
Make dressing- Combine mustard, Worcestershire, garlic, lemon juice, anchovy, salt and pepper- whisk together. Next, add cheese, sour cream, and mayo, mixing thoroughly until incorporated.
In a large mixing bowl add, lettuce, chicken, grated parmesan, tomatoes and parsley. Mix well.
Warm the wrap on the grill or in the microwave with a damp towel to make it a bit more pliable.
Lay the wrap out and place ¼ of the mixture in the center and using both hands bring the wrap from the closest edge over while gathering the edges to tuck them in. Roll the wrap into a burrito shape.
NOTE: These can be made in advance for lunch and wrapped in parchment paper or even quickly griddled or grilled to crisp up the exterior.
You may also like