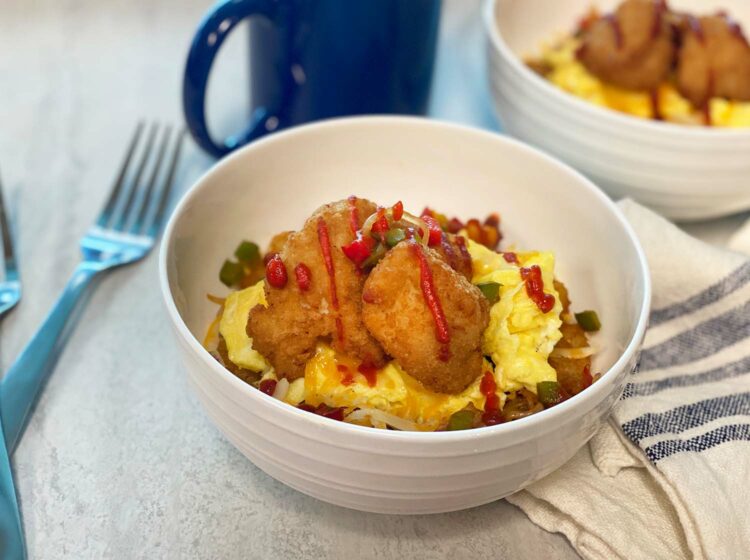 Chicken Nugget Breakfast Bowl
Serves: 4
Prep Time: inutes
Cook Time: inutes
Total Time: inutes
This is the Bell & Evans version of Chick fil-A's Chicken Nugget Breakfast.  And no need to leave the house to get it!
Ingredients
6 ea Eggs
12 oz Tater Tots (The new minis are great in this recipe)
1 TB salted butter or EVOO (to cook peppers and onions)
3/4 ea Onion (sliced thin)
1/2 cup Bell peppers (diced ½ inch)
12 ea Bacon Slices (cooked)
3/4 Shredded Cheddar cheese
Preparation
Roast tots and chicken nuggets in the air fryer according to package directions.
While Tots and nuggets are cooking, sauté the peppers and onions until softened.
Once Tots are crispy and nuggets are cooked, place into a mixing bowl. Break up cooked bacon slices over tots/nuggets and add the peppers and onions.
Mix in shredded cheese and then divide evenly between 4 bowls.
Gently scramble your eggs and divide evenly between the bowls and top with siracha, ketchup or salsa for a kick!