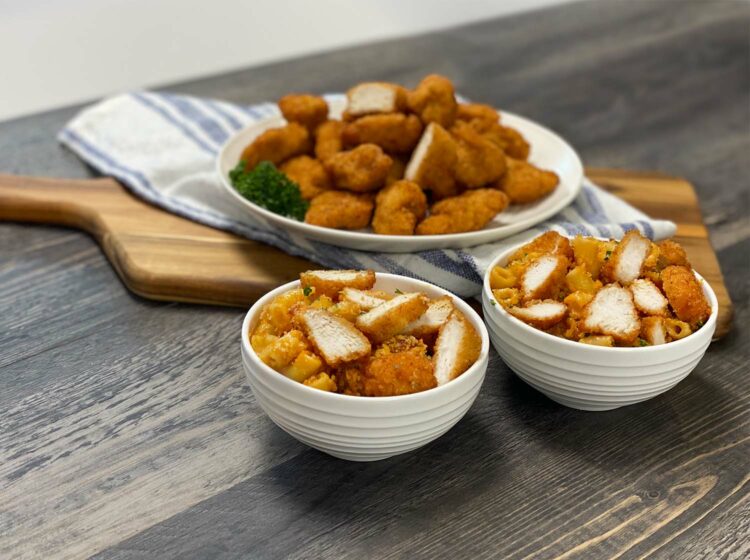 Chicken Nugget BBQ Mac and Cheese
Serves: 6
Prep Time: inutes
Cook Time: inutes
Total Time: inutes
Ingredients
Chicken Nuggets
Mac & Cheese
3 TB Salted butter
1 TB Flour
1 1/2 cups Whole milk
2 cups Shredded Sharp cheddar cheese
1 cup Shredded Mozzarella cheese
1/2 cup Shredded Parmesan cheese
1 1/2 tsp Garlic powder
1 tsp Onion powder
3/4 tsp Ground mustard
1/2 tsp Cayenne pepper
1 1/2 TB Brown sugar
1 TB Smoked Paprika
1/2 TB Salt
2 tsp Black pepper
2 cups Uncooked large elbow noodles
Panko Topping
2 TB Butter
1 cup Panko Breadcrumbs
Preparation
Prepare Chicken Nuggets according to package directions.
Cook pasta elbows, drain and reserve.
Preheat your oven to 350°F.
Make cheese mixture by melting the butter in a medium sauce pot and then whisk in the flour, cook over medium heat for about 2 minutes while whisking the whole time
Add whole milk ½ cup at a time, continuing to whisk until incorporated.
Mix in all dry spices and whisk until mixture has thickened.
Add shredded cheeses and mix until all cheese has melted.
Add cooked elbows to the cheese mixture and thoroughly.
Pour macaroni and cheese mixture in to a 9x9 baking dish.
Melt your remaining 2T of butter in a small/medium sauté pan and add panko crumbs until they are evenly coated with butter. Spread them evenly over the macaroni and cheese mixture in the baking dish.
Place uncovered dish into your preheated oven and bake until crumbs are a golden brown and the cheese is bubbling on the sides.
Remove from oven and let stand about 5 minutes before serving.
Serve Chicken Nuggets with a healthy spoonful of Mac & Cheese.
Featured Product
You may also like