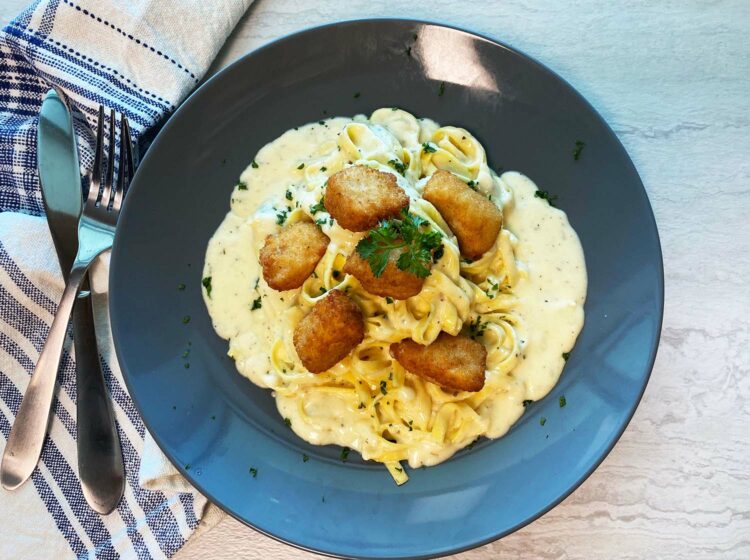 Chicken Nugget Alfredo
Serves: 4
Prep Time: inutes
Cook Time: inutes
Total Time: inutes
Lightly seasoned, whole breast meat Organic Chicken Nuggets rest on top of a cloud of al dente noodles in a homemade alfredo sauce.
Ingredients
3/4 ea Stick of salted butter
1 tsp Minced garlic (fresh is best!)
1 cup Heavy whipping cream
1/2 tsp Italian seasoning
1/2 tsp Black pepper
1 cup Grated parmesan (pre grated is fine, use higher quality for a better sauce)
1 TB Chopped curly parsley
8-12 oz. Fresh fettucine pasta (Ronzoni homestyle is a good substitute if you cannot find fresh)
Preparation
Bake or air fry Bell & Evans Organic Chicken Nuggets according to box instructions.
Fill a 4 qt pot with water and 2 t of salt, bring to a boil (for the pasta).
Place a 10" sauté pan or medium sauce pot over med/low heat, add butter and garlic.
Once butter is melted and garlic has softened, add heavy cream, Italian seasonings and pepper.
Slightly raise the heat so the mixture comes to a very light simmer/bubble. Let cook for about 4 minutes and DO NOT BOIL.
Before we finish the sauce, add pasta to boiling water and cook according to package instructions.
Once cream/butter mixture has slightly thickened, add most of the grated parmesan and whisk until absorbed and keep mixing to prevent any burning on the bottom. Once incorporated, add the pasta to the sauce. Mix pasta into the sauce using tongs to get an even coating.
Portion pasta evenly between plates, top with Bell & Evans nuggets and sprinkle remaining parmesan and chopped parsley over your plates.