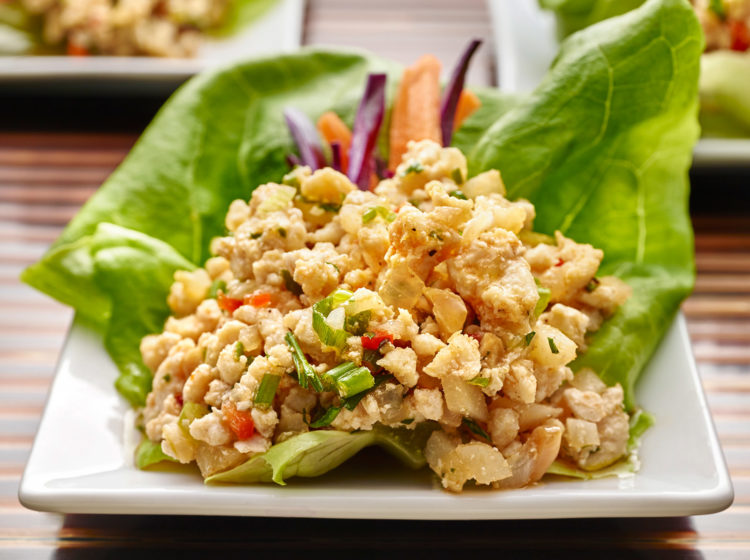 Ingredients
3-4 T Coconut Oil
½ Vidalia Onion, finely diced
4 Cloves Garlic, minced
1-2 Fresno red chile peppers, seeds removed, finely minced
1 ½ T Fish Sauce
1 ½ T Sriracha Hot Sauce
1 Lime, juiced
½ Cup Roasted Cashews, roughly chopped
8 oz Can Water Chestnuts, drained & roughly chopped
1 Bunch Scallions, green part only, roughly chopped
Handful of fresh Cilantro, roughly chopped
Handful of flat leaf Parsley, roughly chopped
Salt & Pepper, to taste
Garnish
2 Heads Bibb Lettuce, separate leaves, using small- medium sized leaves
2-3 Carrots, peeled & julienned
1-2 Cups Purple Cabbage, finely shredded
Soy sauce
Preparation
In a large sauté pan heat coconut oil over medium heat. Add onions and cook until golden brown.
Add garlic, red chiles and ground chicken. Season with salt & pepper, to taste.
Sauté and chop chicken to break into small pieces and cook for 5-10 minutes to an internal of 170°F as measured by a meat thermometer.
Remove from heat. Stir in fish sauce, sriracha and lime juice.
Add cashews, water chestnuts, scallions, cilantro and parsley. Stir to combine.
Re-season with salt & pepper if needed.
Serving
Arrange Bibb Lettuce leaves on serving plate and layer with carrots and purple cabbage.
Top with warm cooked ground chicken and soy sauce on the side.
Featured Product
You may also like