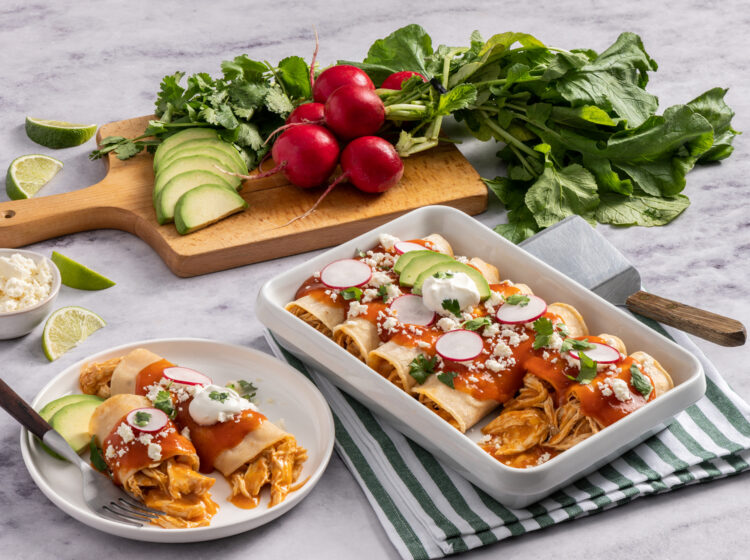 Chicken Enchiladas
Serves: 8
Prep Time: inutes
Cook Time: inutes
Total Time: inutes
These classic enchiladas are a fiesta of flavor that's a great addition to your weeknight dinner rotation! Bell & Evans Organic Boneless, Skinless Chicken Thighs are the ideal cut to make tender, succulent pulled chicken in just about 20 minutes on the stove top. Classic taco toppings, like avocado and cilantro, are added to the cheesy baked enchiladas for a truly satisfying supper.
Ingredients
1 tsp Salt
1 TB Olive oil
1 medium Yellow onion, chopped
2 (10-oz) cans Red enchilada sauce, divided
1 cup Shredded cheddar cheese
12 (6-inch) Corn tortillas
1 cup Crumbled queso fresco
1 cup Sour cream
2 Avocados, halved, pitted and sliced
1/4 cup Chopped fresh cilantro
4 Radishes, thinly sliced
3 Limes, cut into wedges
Preparation
Preheat oven to 400°F. Season chicken with salt. Heat oil in large skillet over medium-high heat. Place chicken in hot skillet and cook, without moving, until golden-brown, about 4-5 minutes. Flip chicken over and continue to cook for 4-5 minutes, until golden-brown. Add onion and 1 can of enchilada sauce. Cover and simmer on medium-low heat until chicken is fully cooked, or until internal temperature reaches 165°F, about 7-10 minutes. Transfer chicken, sauce and cheddar to a large bowl. Using 2 forks, shred chicken into small, bite-size pieces and mix to combine.
Cover bottom of a 9x13-inch baking dish with 1/2 cup enchilada sauce. Spoon shredded chicken mixture down center of each tortilla. Roll up each tortilla and place into the prepared baking dish, seam-side-down, nestling each one against the last. Pour remaining enchilada sauce over top of rolled tortillas.
Bake until sauce bubbles, about 10-15 minutes. Top with queso fresco, a few dollops of sour cream, avocado, cilantro and radishes. Serve with lime wedges and enjoy.
Featured Product
You may also like