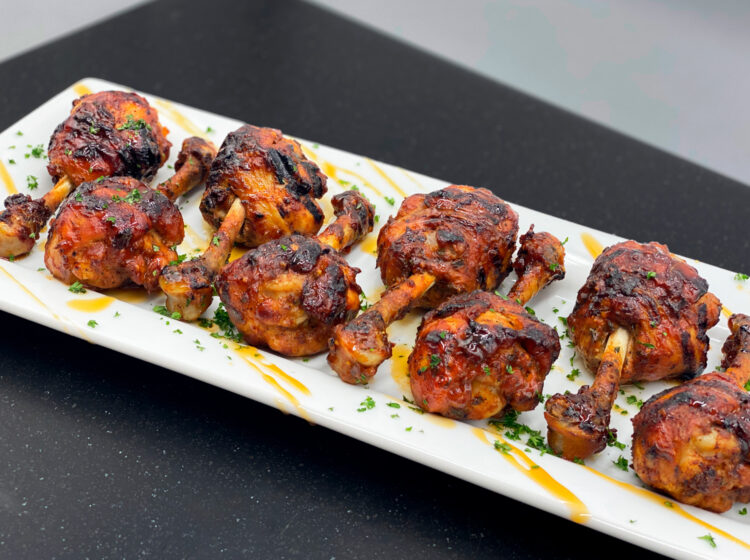 Chicken Drumstick Lollipops
Serves: 4
Prep Time: inutes
Cook Time: inutes
Total Time: inutes
This crowd-pleasing recipe is so easy to make, yet perfect for cost-conscious consumers who want to wow their guests.  These sticky, ooey-gooey, sweet & spicy Chicken Drumstick Lollipops will make your everyone think you've been taking gourmet cooking classes. If you can't find Chicken Drumstick Lollipops, follow the easy directions below to make your own, using Chicken Drumsticks.
Ingredients
2 TB Light brown sugar
1 TB Sweet paprika
1 tsp Hot paprika
1 1/2 tsp Onion powder
2 tsp Garlic powder
1 1/2 tsp Dry mustard
1 1/2 TB Sea salt
2 tsp Black pepper
1/2 TB Dry thyme
1/2 TB Dry basil
2 TB Vegetable or grapeseed oil
Mopping Sauce/Glaze
4 oz. BBQ sauce
3 oz. Yellow mustard
2 oz. Hot wing sauce
1 TB Chopped garlic
Preparation
Where most of the meat ends, separate the tendons. In a circular motion, cut around the bone without cutting through it.
With a paring knife, push the meat toward the knuckle end of the bone. Then cut the tendons and skin off with the paring knife or kitchen shears.
Hold the knuckle and pull the meat down toward the base of the drumstick. There is a small bone that you can feel with your fingers. Wiggle it around until it pops out.
Dry rub, Grilling and Basting the Chicken Lollipops
Mix dry rub ingredients and rub into the skin of each drumstick.
Meanwhile, mix the ingredients of the mopping sauce. Heat grill to medium heat, and spray with nonstick cooking spray.
Grill chicken drumsticks until internal temperature reaches 170°F, about 30 minutes, turning as needed to crisp the skin. Start to mop with the glaze after 20 minutes.
Featured Product
You may also like