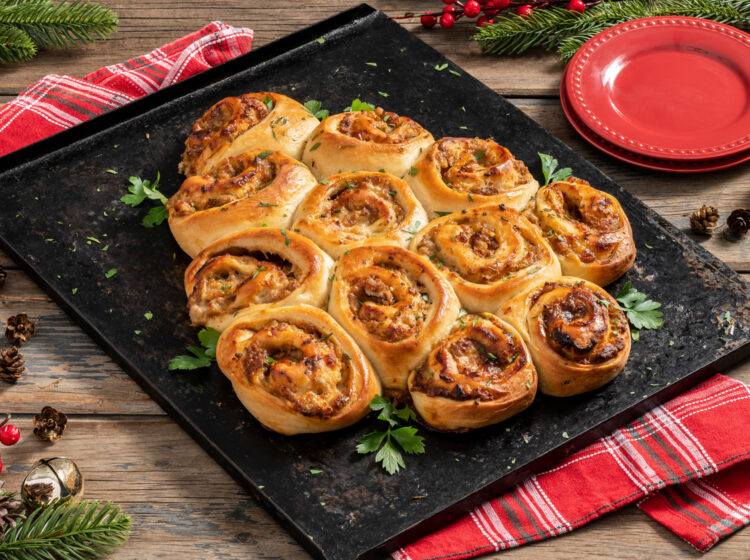 Chicken, Apple Butter and Brie Stuffed Christmas Tree Rolls
Serves: 12
Prep Time: inutes
Cook Time: inutes
Total Time: inutes
Every holiday party has one appetizer that steals the show in both presentation and flavor. These Christmas-tree shaped rolls, with a delectable combination of Bell & Evans ground chicken, apple butter and brie cheese, is bound to be it! A little bit decadent, and perfectly unique: It's the best of the holidays all rolled together into a charming snack.
Ingredients
1 TB Olive oil
2 TB All-purpose flour
1 1/4 cups Milk
1/2 tsp Salt
1/4 tsp Black pepper
4 oz Brie, rind removed and cut into 1-inch pieces
1 lb. Pizza dough, room temperature
All-purpose flour, for dusting
1/2 cup Apple butter
1/4 cup Unsalted butter, melted
1 tsp Minced fresh rosemary
Preparation
Preheat oven to 375°F and line a baking sheet with parchment paper. Heat oil in a large skillet over medium-high heat. Add ground chicken and cook, breaking up into small crumbles with a wooden spoon, until fully cooked, about 8 minutes.
Stir in flour, and cook until no lumps remain, about 1 minute. Stir in milk, and simmer, stirring occasionally, until thick, about 5-10 minutes Add brie and cook, stirring frequently until combined, about 1-2 minutes. Remove from heat and let cool to room temperature.
Roll dough on lightly floured surface into a 24x15-inch rectangle, with the long side facing you. Spread apple butter evenly over dough, leaving a 1-inch border along the edge furthest from you. Top with chicken mixture, spreading evenly over dough.
Starting with the long edge closest to you, roll into a tight log. Cut log, using a serrated knife, into 12 slices. Arrange slices, cut-side-down, into the shape of a christmas tree. Cover with plastic wrap and let rest until doubled in size, about 1 hour.
Meanwhile, combine butter and rosemary in a small bowl. Brush tops of rolls with butter mixture. Bake until golden-brown, about 35-40 minutes. Let cool completely on wire rack before serving.
Tip: Use the remaining ground chicken in your holiday stuffing, savory bread pudding, or biscuits with ground chicken gravy!
Featured Product
You may also like