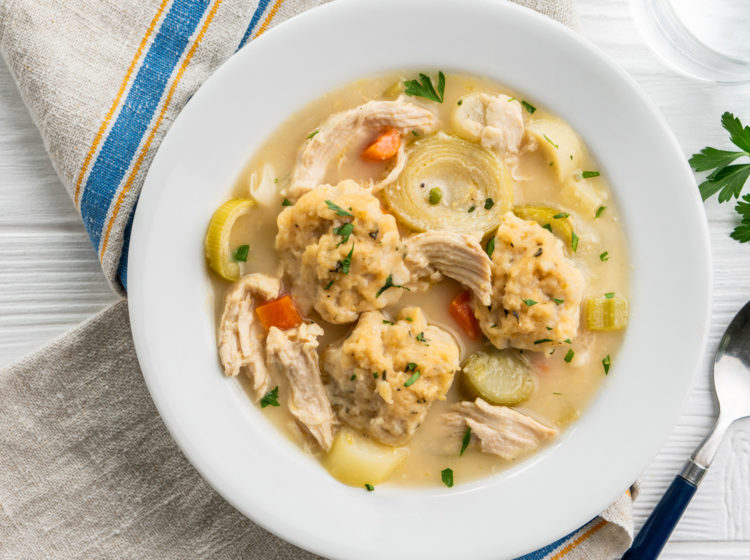 Chicken and Leek Stew with Herbed Dumplings
Serves: 4
Prep Time: inutes
Cook Time: inutes
Total Time: inutes
This updated version of a classic comfort dish comes together in one pot, features either Boneless Skinless Chicken Breasts or Thighs  and is sure to become a family favorite.  And it is so easy to make in your Slow Cooker!
Ingredients
1 Pkg Bell & Evans Boneless Skinless Chicken Breasts or Thighs
3 Leeks, washed and sliced, white and light green
Salt & Pepper, to taste
4 Cups Low-sodium organic chicken broth
4 Sprigs fresh thyme
1 Bay leaf
2 Stalks celery, chopped
2 Carrots, peeled and chopped
1 Cup Peas
3 TB Unsalted butter
4 TB Flour
2 Cups Milk
Dumplings
1 1/2 Cups Flour
2 tsp Baking Powder
1 tsp Kosher salt
1 TB Fresh herbs (such as parsley, thyme, sage, and/rosemary) (or 1 tsp dried herbs)
2 TB Butter
1/2 - 3/4 cup Milk
Preparation
Scatter leeks in the bottom of a large slow cooker then top with chicken. Season with salt and pepper. Add thyme and bay leaf then pour in broth. Cover and cook on high until the chicken is cooked through, about 3 hours.
Discard thyme and bay leaf, then shred chicken with two forks. Add shredded chicken back into slow-cooker with celery, carrots, and peas.
Melt butter in a saucepan over medium heat. Add flour and stir until incorporated. Stir in milk and cook until thickened. Stir cream sauce into chicken and vegetable stew and season to taste.
In a medium bowl, mix together the flour, baking powder, salt and herbs. Work the butter into the flour mixture by hand. Gradually stir ½ cup milk into flour mixture. If needed, add more milk 1 tablespoon at a time until wet dough forms. Add mounded tablespoons of dumpling batter to chicken stew, leaving a little room between each one.
Cover tightly and cook on high until vegetables are tender and biscuits are cooked through, about 1 hour. Ladle stew into bowls, topped with dumplings.
Featured Product
You may also like