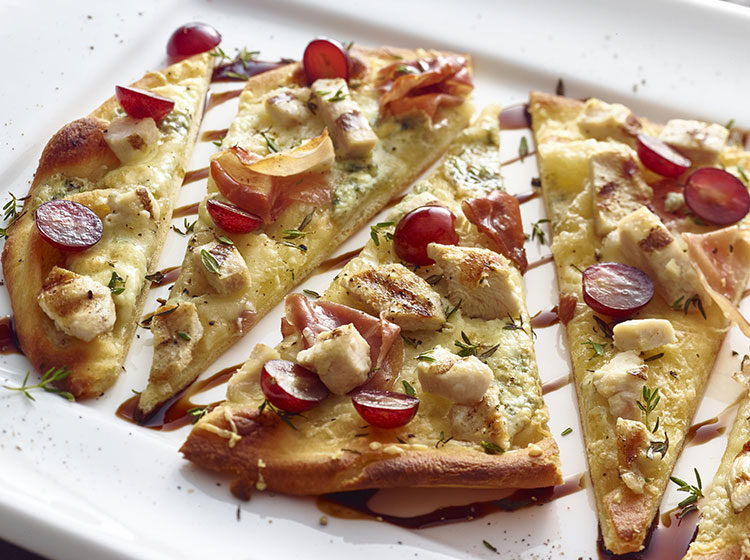 Chicken and Grape Crispy Flatbread
Serves: 4
Prep Time: inutes
Cook Time: inutes
Total Time: inutes
This Crispy Chicken and Grape Flatbread will make even a quick Friday meal seem upscale.  It is so easy to make!  The savory hot Fully Cooked Grilled Diced Chicken and Prosciutto balance the sweet, cold grapes.  And the Balsamic Glaze is the icing on the cake.
Ingredients
Ingredients
2 8-inch already made flatbread, such as Naan
2 T Olive oil
½ Cup Fontina cheese, shredded
4-6 Slices of Prosciutto, roughly chopped
½ Cup Grilled Diced Chicken, thawed overnight in refrigerator
¼ Cup Blue cheese, crumbled
Salt & Pepper, to taste
1 T Fresh thyme leaves
¼ Cup Red grapes cut in half
Balsamic glaze, for garnish
Preparation
In the Oven
Place a pizza stone in the oven and preheat oven to 400°F.
Brush both sides of flat bread with olive oil.
Top with fontina, prosciutto, chicken and blue cheese.
Season with salt and pepper.
Bake for 10-15 minutes or until cheese has melted and crust is golden brown.
Garnish
Garnish with fresh thyme, red grapes and a drizzle of balsamic glaze.
Featured Product
You may also like