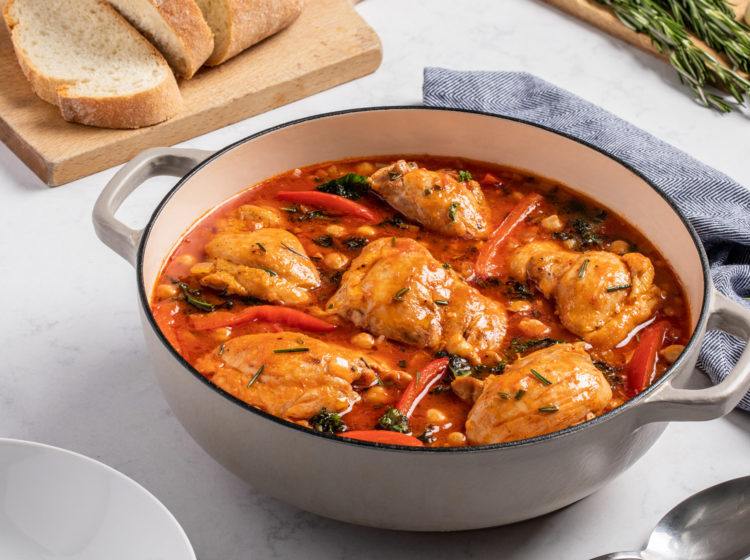 Chicken and Chickpea Alla Cacciatora
Serves: 4
Prep Time: inutes
Cook Time: inutes
Total Time: inutes
In Italian, "alla cacciatora" translates to "hunter-style," a rustic, brothy braise that usually includes onions, peppers, tomatoes and winter herbs. In our modern version with boneless, skinless chicken thighs, the addition of chickpeas lends extra protein, and kale brings a touch of color and texture to the mix.
Ingredients
1 Pkg Bell & Evans boneless, skinless chicken thighs
Salt & pepper, to taste
1 TB Olive oil
1/3 lb Pancetta, diced
1 Onion, diced
2 Celery sticks, diced
1 Red bell pepper, seeded and sliced lengthwise into 1/2-inch strips
2 cloves Garlic, crushed
3 sprigs Rosemary
3/4 cup Dry white wine
15 oz can Chickpeas, drained and rinsed
2 cups Tomato puree
2 cups Chicken stock
1/2 bunch Kale, stems discarded, leaves torn
Preparation
Season chicken well with salt and pepper. Heat oil over medium-high heat in a deep skillet. Add chicken to skillet. Brown for 5 minutes, turn and cook another 5 minutes. Remove chicken from skillet and set aside.
Reduce heat to medium, add pancetta and cook for 4 minutes, or until browned. Add onion, celery and bell pepper, and cook for 3 minutes. Stir in garlic and rosemary and cook 2 minutes longer.
Add wine and simmer until reduced by half. Stir in chickpeas, tomato puree and stock and bring to a simmer. Return chicken to pan, cover and cook for 30 to 40 minutes, or until chicken is tender.
Add kale and stir for 2 minutes, or until leaves are wilted. Serve hot in bowls with crusty bread, if desired.
Featured Product
You may also like