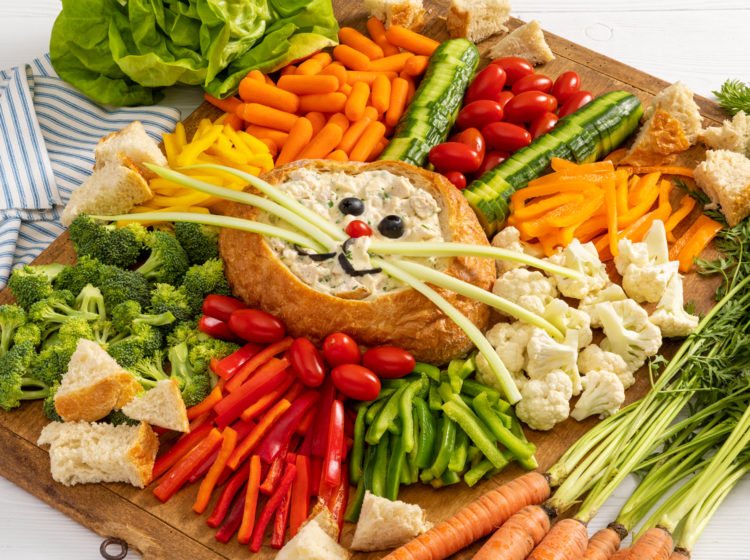 Chicken Alfredo Dip in a Bread Bowl
Serves: 8
Prep Time: inutes
Cook Time: inutes
Total Time: inutes
Creamy, cheesy and delicious, this Chicken Alfredo dip is a riff on the Italian pasta classic. Try this tasty appetizer that's nestled in a bread bowl for a rustic presentation, at your next family gathering. For a whimsical Easter theme, use raw veggies to create a sweet bunny face!
Ingredients
2 Bell & Evans Boneless, Skinless Chicken Breasts, cooked and chopped
3 TB Butter
3 TB Flour
1 TB Fresh Italian parsley, chopped
1 clove Garlic, minced
1/2 tsp Salt
1 cup Organic low-sodium chicken broth
1 cup Milk
1 cup Shredded Parmesan cheese
1/2 cup Shredded mozzarella cheese
1 (8-oz) package Cream cheese
1 Loaf round, crusty Bread
Preparation
In a medium skillet over medium heat, melt butter. Add flour and whisk until smooth. Add parsley, garlic and salt and cook for 1 minute.
Add broth and milk and whisk until combined. Cook over medium heat, whisking often, until thickened and smooth, about 2 minutes. Stir in Parmesan cheese and cream cheese until melted. Stir in chicken.
Using a bread knife slice the top of the bread off. Scoop out the inside of the bread and tear into pieces. Arrange vegetables and torn bread on large platter, leaving space in center for bread bowl.
Spread chicken mixture into hollowed-out bread loaf and top with mozzarella cheese. Bake at 400°F for 10-15 minutes, until bubbly and beginning to brown.
Serve with vegetables and torn bread pieces.
Featured Product
You may also like