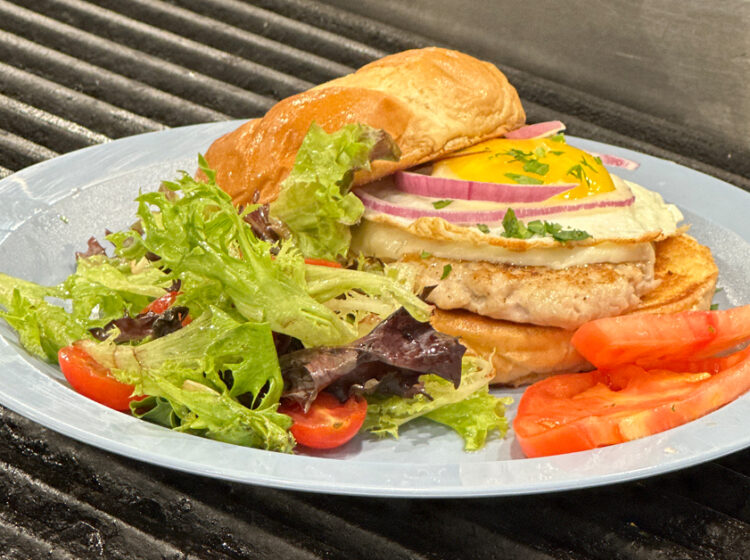 Chef Kenny's Famous Smash Burgers
Serves: 4
Prep Time: inutes
Cook Time: inutes
Total Time: inutes
The possibilities are endless when you're working with a flat iron grill. It's perfect for grilling Chef Kenny Magana's famous Chicken Smash Burgers. Minimal seasonings and our Ground Chicken deliver major flavor. He tops the burger with a slice of Provolone cheese and a fried egg, but you can add your own toppings. Check out his blog with hacks on how to make the perfect Smash Burger.
Ingredients
The Burger
1 1/2 tsp Garlic powder
1 1/2 tsp Onion powder
Salt & Pepper to taste
The Toppings
4 Slices of Provolone Cheese
4 Fried Eggs
4 Brioche Buns
Preparation
Mix chicken burger, garlic and onion powder
With an ice cream scoop, scoop out 2 scoops of burger onto a piece of parchment paper, 1 scoop at a time. Repeat for the next 2 burgers.
Place another piece of parchment paper on top and press down, not too hard as to make it too flat (see blog for pictures).
Place buns, burgers and 4 eggs on the flat iron and cook until the burger is 165F as measured by a meat thermometer.
Place cheese on the burger until melted. Then place bun on the plate, add burger, then egg, then remaining toppings.
Featured Product
You may also like