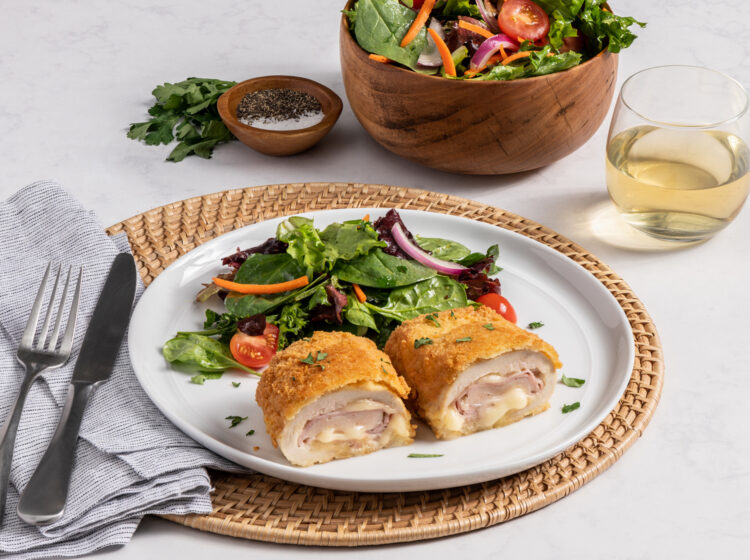 Cheesy Keto Chicken Cordon Bleu
Serves: 4
Prep Time: inutes
Cook Time: inutes
Total Time: inutes
Sticking to a keto diet is no problem when you've got plenty of tempting recipes to choose from! This flavor-packed entrée takes its cues from the traditional French dish, Cordon Bleu, which translates to "blue ribbon" in English. Bell & Evans Boneless, Skinless Organic Chicken Breasts are gently pounded to flatten them, and then stuffed with Swiss cheese and ham, then battered and fried to gooey, cheesy perfection.
Ingredients
Chicken
Salt and black pepper, to taste
8 slices Swiss cheese
8 slices Black forest ham
2 cups Almond flour, divided
3 large Eggs, lightly beaten
1/2 cup Grated Parmesan cheese
Avocado oil, for pan frying
Salad
1 (4-oz) bag Spring mix
1 cup Cherry tomatoes, halved
1/2 Red onion, sliced thin
1 medium Carrot, cut into 1/8-inch matchsticks
Balsamic vinaigrette, for serving
Preparation
For chicken: Lay chicken breasts on work surface between 2 pieces of parchment paper. Pound with a meat tenderizer or rolling pin until 1/2-inch thick. Repeat with remaining breasts.
Place 2 slices of Swiss cheese and 2 slices of ham on each breast. Roll breast up widthwise and wrap in plastic wrap. Refrigerate until firm enough to work with, about 30 minutes.
Add 1 cup almond flour and eggs to 2 separate bowls. Combine remaining almond flour and Parmesan in a shallow bowl. Dredge breasts in almond flour, eggs then Parmesan mixture, shaking off excess.
Heat 1-inch of oil in a large skillet over medium-high heat until it reaches 325°F. Working in batches, fry breasts, flipping occasionally, until golden-brown or until internal temperature reaches 165°F, about 8-10 minutes.
For salad: Meanwhile toss spring mix, tomatoes, red onion, carrot and balsamic vinaigrette together until coated. Slice chicken and serve with salad.
Featured Product
You may also like