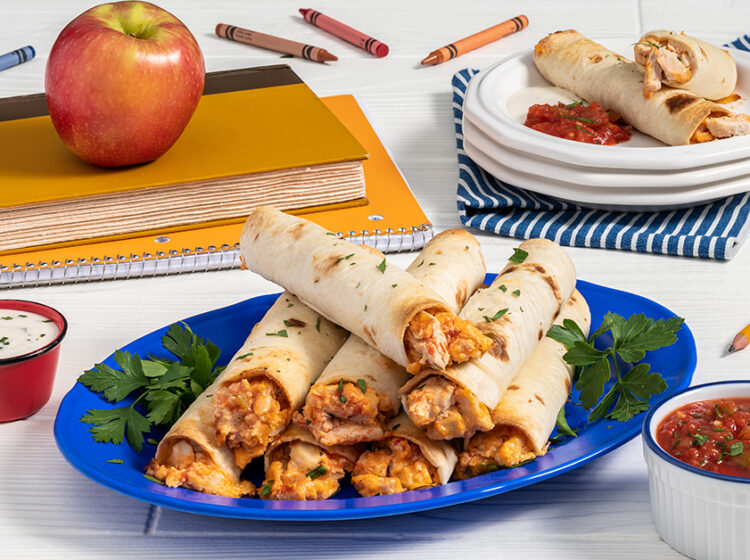 Cheesy Chicken Taquitos
Serves: 6
Prep Time: inutes
Cook Time: inutes
Total Time: inutes
When snack cravings strike, these cheesy chicken taquitos are just the ticket. It only takes a few minutes to mix up the creamy chicken filling, made with Bell & Evans Fully Cooked Boneless, Skinless Diced Chicken Breast, which gets rolled into tortillas and baked to a delicious golden-brown. Dunk them in ranch dressing for the ultimate after-school, movie-night or late-night treat!
Ingredients
1 1/2 cups Colby Jack cheese
1 cup (8 oz) Cream cheese, room temperature
1/3 cup Sour cream
1/2 cup Salsa, jarred
12 (6-inch) Flour tortillas
1 TB Olive oil
Ranch dressing, for serving
Preparation
Preheat oven to 400°F and line a rimmed baking sheet with parchment paper. Mix chicken, Colby Jack cheese, cream cheese, sour cream and salsa together in a large bowl until combined.
Spread a few tablespoons of chicken mixture evenly over tortillas. Roll up each tortilla and place onto prepared baking sheet, seam-side-down.
Brush tortillas with olive oil. Bake tortillas for 10-15 minutes, flipping halfway through, until light golden-brown. Top with parsley, and serve with ranch dressing.
Featured Product
You may also like