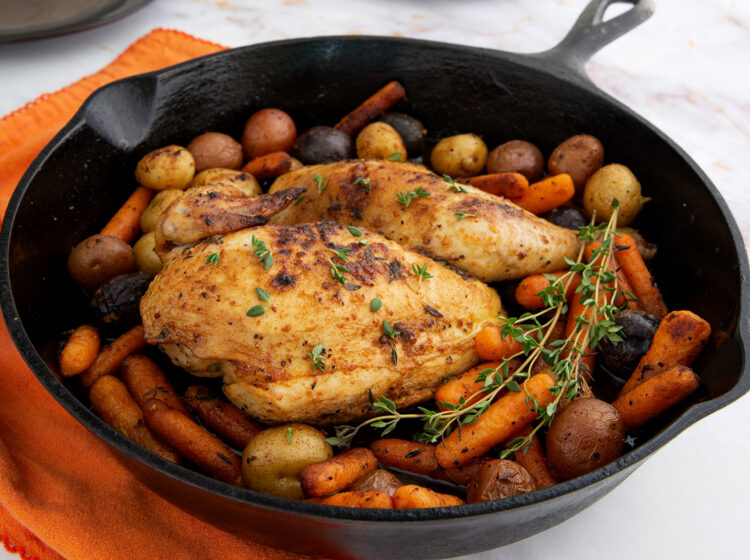 Cast Iron Skillet Roasted Half Chicken
Serves: 2
Prep Time: inutes
Cook Time: inutes
Total Time: inutes
This Cast Iron Skillet Roasted Half Chicken recipe is a great dinner for two – perfect for Sunday night supper or even a busier weeknight. It pairs perfectly with our Avocado Salad and perhaps a nice glass of chilled white wine. Dinner is served!
Source: Gluten Free & More
Ingredients
6 TB Olive oil
Juice of 2 Large lemons
4 Cloves garlic, minced or grated
1 TB Kosher or fine sea salt
2 tsp Paprika
1 ½ tsp Black pepper
7 sprigs Fresh thyme, divided
¾ lb. Baby potatoes, scrubbed
½ lb. Baby carrots
Preparation
Place the chicken half into a large food storage bag.
Whisk together the olive oil, lemon juice, garlic, salt, paprika, and pepper. Reserve half the marinade. Pour the other half into the bag with the chicken, seal the bag, flip it around a few times to coat the chicken with the marinade, and refrigerate for 30 minutes or up to 3 hours (but not longer), flipping every once in a while.
Remove chicken from refrigerator and let sit at room temperature while the oven preheats.
Preheat the oven to 500°F.
Place the chicken, skin side up, into a 10-inch cast iron skillet (or baking dish large enough to hold the chicken and vegetables snugly but not too big), pour the marinade over, add 3 thyme sprigs, and roast for 8 minutes. Brush with the pan juices and roast for another 7 minutes.
If the potatoes are larger than a large marble, cut them in half. Put into a bowl with the carrots and reserved marinade, toss.
Remove the skillet from the oven, lower the temperature to 425°F, and pour the potatoes, carrots, and marinade around the chicken. Add 3 more thyme sprigs on top of the vegetables. Roast for 20-25 minutes, or until the chicken registers 165°F on an instant-read thermometer and the vegetables are fork tender, basting both the chicken and vegetables with pan juices 3 times. Cover loosely with foil and let rest for 5 minutes before cutting and serving.
Pull the leaves off the last thyme spring and sprinkle over the top. Serve with the pan juices.
Featured Product
You may also like