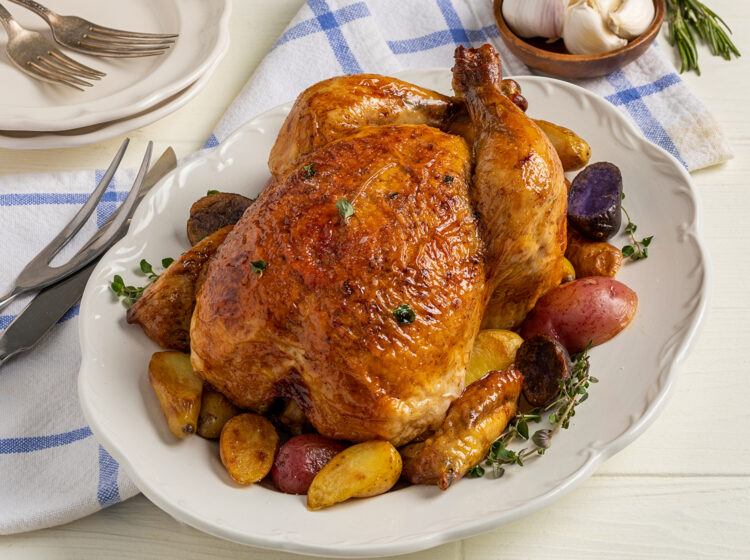 Buttermilk-Brined Roasted Chicken
Serves: 4
Prep Time: inutes
Cook Time: inutes
Total Time: inutes
Something magical happens when poultry is marinated in buttermilk: It becomes impossibly juicy and tender. But, it's actually not magic — it's science! The acids in buttermilk help to soften the proteins in the chicken and help it to retain moisture more effectively; plus, the sugars in the buttermilk caramelize during cooking, which deepens the color and flavor of the chicken skin. Once you try this method, you'll never go back to any other kind of brine!
Ingredients
Brine
4 cups Water, divided
1/4 cup Kosher salt, plus more to taste
11 cloves Garlic, smashed, plus 3 cloves garlic thinly sliced
2 TB Sugar
4 sprigs Fresh thyme
2 Bay leaves
4 cups Buttermilk, kept cold
Chicken
Preparation
For Brine
Combine 2 cups water, salt, 11 cloves garlic, sugar, thyme and bay leaves in a large stock pot. Simmer over medium-high heat until salt dissolves, about 5 minutes. Remove from heat. Stir in remaining water and buttermilk. Place chicken in the buttermilk mixture. Cover with lid or plastic wrap and refrigerate for at least 6 hours or up to 12 hours.
For Chicken
Preheat oven to 425°F. Place the chicken, breast-side-down, on a rack in a roasting pan. Season with salt and pepper.
Roast until golden-brown, or until the internal temperature reaches 165°F as measured by a meat thermometer, about 40 minutes to 1 hour. Let rest before slicing and serving.
Meanwhile, simmer oil and garlic slices in a small skillet over medium heat until light golden-brown and fragrant, about 3 minutes. Remove from heat and stir in rosemary. Serve oil mixture with chicken and enjoy.
Featured Product
You may also like