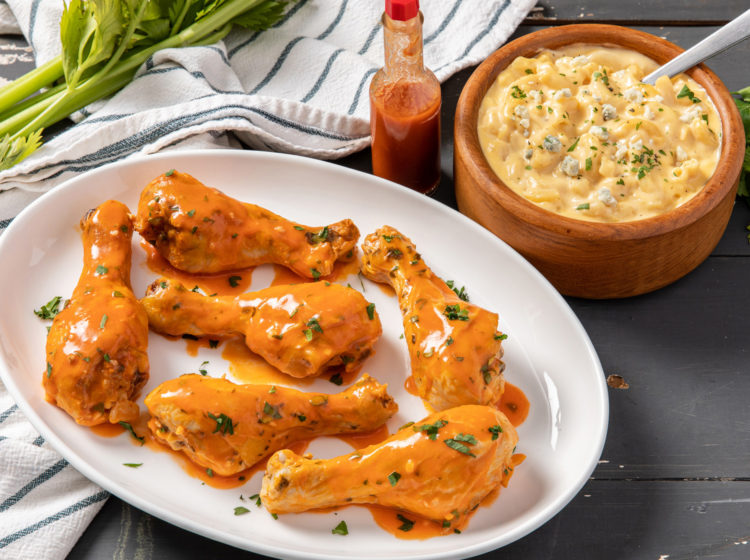 Buffalo Drumsticks with Blue Cheese Mac-and-Cheese
Serves: 5
Prep Time: inutes
Cook Time: inutes
Total Time: inutes
When you're adulting, but craving Mac & Cheese and Wings…  Chicken Drumsticks!  Make this grown up Blue Cheese Mac & Cheese and pair it with big, juicy Buffalo Drumsticks.
Ingredients
Drumsticks
1/2 Cup Cayenne pepper hot sauce
1/3 Cup Dry white wine
1/4 Cup Unsalted butter
4 cloves Garlic, minced
3 TB Dried parsley
1/3 cup Scallions, sliced
Fresh parsley, to taste
Blue Cheese Mac & Cheese
1 lb Elbow pasta (or other short pasta)
3 TB Unsalted butter, cubed
12 oz Evaporated whole milk
1 1/2 cups Reduced-sodium chicken broth
1/4 cup Heavy whipping cream
1 tsp Kosher salt
1/2 tsp Black pepper
1/4 tsp Ground mustard
1/4 tsp Paprika
4 oz Cream cheese, cubed
2 cups Grated cheddar cheese
3/4 cup Blue cheese, crumbled
1/4 cup Parsley, chopped
Preparation
Drumsticks
Place drumsticks in a slow cooker. Add hot sauce, wine, butter, garlic and dried parsley.
Cover and cook on low for 3 to 4 hours, or on high for 2 to 2 1/2 hours.
Blue Cheese Mac & Cheese
Spray another slow cooker crock with cooking spray. Add pasta, butter, evaporated milk, chicken broth, heavy cream, salt, pepper, ground mustard, and paprika to cooker. Stir well to combine.
Press ingredients into an even layer so that as much pasta is submerged as possible. Cover and cook on LOW for 1 hour.
Remove lid and stir. Cover and cook on LOW 15 minutes longer, or until pasta is al dente. Turn off heat. Add cheeses and stir well. Cover and let sit for 5 to 10 minutes.
Stir well to combine, garnish with parsley and serve hot with drumsticks.
Featured Product
You may also like